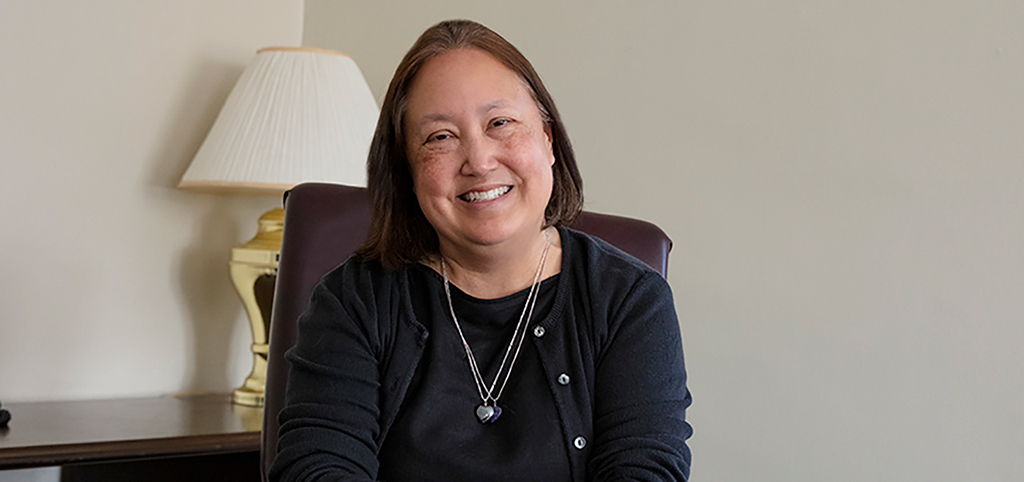 Joyce P. Jacobsen
Joyce P. Jacobsen
Between 2019 - 2021, Joyce P. Jacobsen served as the 29th President of Hobart College and the 18th of William Smith College. She is the first woman to serve as president of Hobart and William Smith. Previously the Provost and Senior Vice President for Academic Affairs at Wesleyan University, Jacobsen is a renowned scholar of economics, an award-winning teacher and a skilled administrator with more than three decades of experience taking on increasingly complex roles in higher education.
As president of Hobart and William Smith, Jacobsen oversaw the three largest fundraising years in the Colleges' history, developed a strategic vision and a plan of work to make that vision a reality, and successfully navigated the pandemic, allowing the Colleges to remain open for in-person instruction. With a deep understanding of the complexities of higher education infrastructure and finances, she balanced the budget and created a sustainable model for operations moving forward. She was a member of the Board of Trustees of the Commission on Independent Colleges & Universities in New York, where she chaired that organization's Audit and Compensation Committee, and was a member of the NCAA Division III Presidents Advisory Group. She is the recipient of the prestigious 2021 Carolyn Shaw Bell Award, given to an individual who has furthered the status of women in the economics profession.
Jacobsen earned her Ph.D. from Stanford University and M.Sc. from the London School of Economics, and graduated from Harvard University, magna cum laude, with her A.B. in economics as a member of Phi Beta Kappa. She began her academic career in 1988 as an assistant professor at Rhodes College before going to Wesleyan University in 1993. She earned full professor at Wesleyan in 2000, and was awarded an endowed chair as Andrews Professor of Economics in 2003. She was the recipient of the University's prestigious Binswanger Prize for Excellence in Teaching in 2007. She began her work as an administrator in 2013 when she was appointed Dean of Social Sciences and Director of Global Initiatives at Wesleyan, and then Provost and Vice President for Academic Affairs in 2015.
An expert on labor economics, particularly the economics of gender, Jacobsen is the author of scores of journal articles and book chapters exploring sex segregation, migration and the effects of labor force intermittency on women's earnings, among other topics, as well as the economics of wine and other collectibles. Her books include Advanced Introduction to Feminist Economics, The Economics of Gender, Queer Economics: A Reader (co-edited with Adam Zeller) and Labor Markets and Employment Relationships (with Gilbert L. Skillman).
Jacobsen has been a visiting professor at Harvard University, Northwestern University, Colorado College and the University of Groningen in the Netherlands, where she held the Jantina Tammes Chair in Gender Studies. She has consulted for the World Bank, the ACLU and other nonprofit organizations. She served as editor of Eastern Economic Journal and on the editorial boards of a number of professional journals. Jacobsen was President of the International Association for Feminist Economics, served as a member of the American Economic Association Committee on the Status of Women in the Economics Profession, and is currently an elected board member of the Eastern Economic Association.
Office Hours
Office hours will be held throughout the Spring semester and will adhere to all social distancing guidelines. Similar to last semester, we ask that meetings be scheduled in advance. Each session will have roughly six time slots of approximately 15 minutes. Group meetings will be limited to a maximum of three people. If you are currently studying or working remotely, or if accessing Coxe Hall isn't feasible, we will arrange for the meeting to be conducted via Zoom. Alternative meeting times can also be arranged if these options do not work with your schedule.
Spring 2022 (4 - 5:30 p.m.):
Tuesday, February 1 (3-4 p.m.)
Tuesday, February 15
Wednesday, March 2
Thursday, March 17
Wednesday, March 30
Tuesday, April 12
Wednesday, April 27
Please note: if these dates are not conducive with your schedule, alternative meeting times can be arranged. To set up a meeting, contact Amanda Blowers at blowers@hws.edu or (315) 781-3309.