The FGI Center is a resource available to all HWS first generation students. Located on the ground floor of Sherrill Hall, it serves as a private, on-campus space for first generation students. Designed by first generation students and recently renovated, the Center features both a study space equipped with moving tables and whiteboards as well as a relaxation space that includes comfortable seating. There is also a projector available for student use in the Center.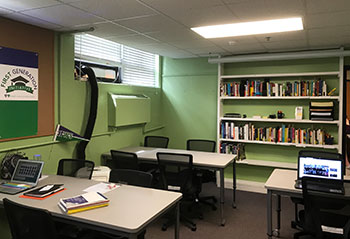 The FGI Center is also in the early stages of building a Textbook Library that will allow first gen students to access textbooks while in the Center from the available titles. A list of currently available titles will be shared with FG students a few weeks prior to the start of each semester.
The Center can be accessed through the back door of Sherrill Hall, located by the basketball hoops. The Center is open during weekly walk-in hours. For access to the Center outside of these hours, email Professor Christine de Denus (deDenus@hws.edu).
Weekly Walk-In Hours: published at the start of each semester.