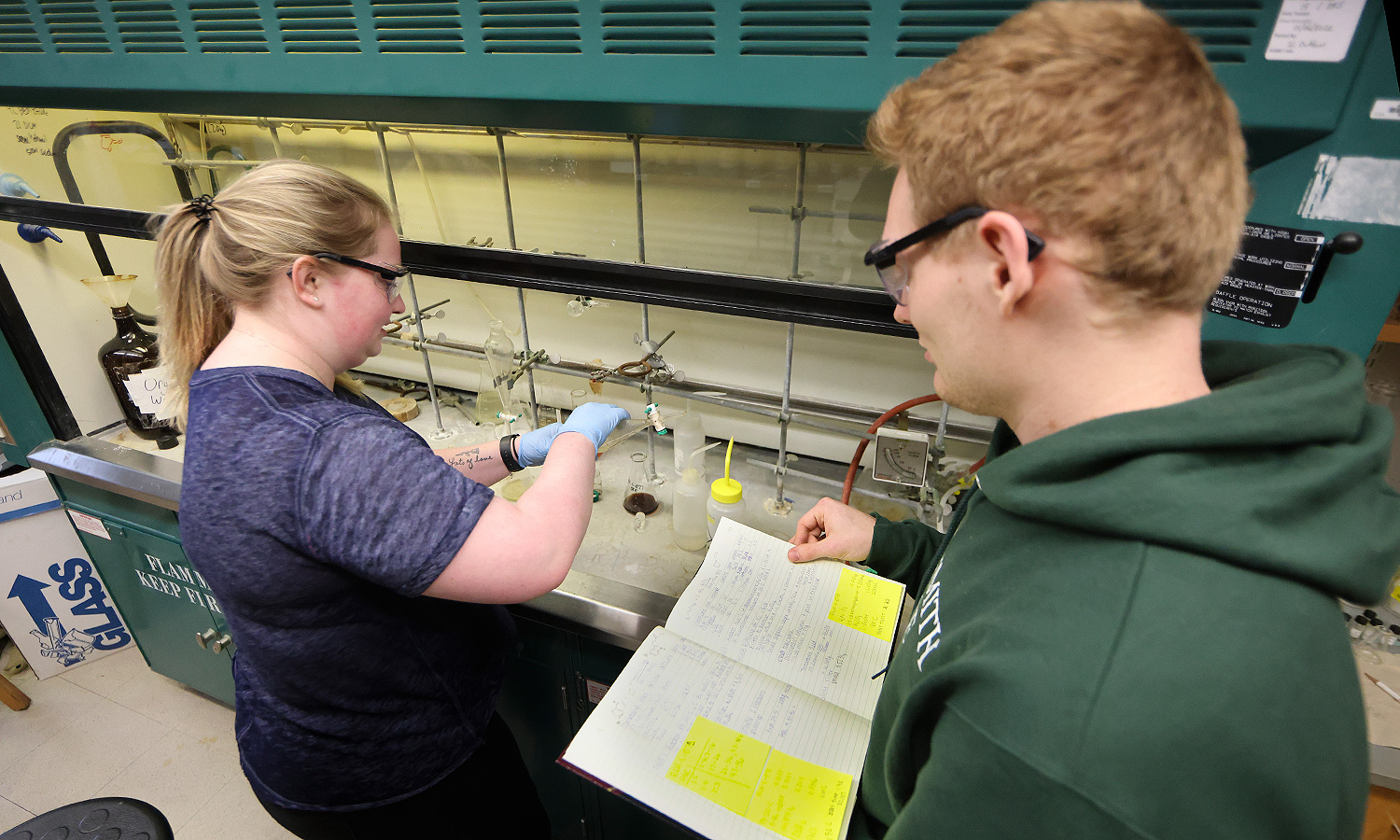 Undergraduate Research Program
Undergraduate Research Program
Since its beginning in 1987, Hobart and William Smith's Undergraduate Summer Research Program has supported summer scholars who work side-by-side with a faculty research mentor. In doing so, students experience the rigors and joys of research in the sciences and social sciences, gain laboratory experience that will be vital to their future careers, and benefit from the guidance of experienced faculty mentors.
The four major objectives of the Undergraduate Summer Research Program are to:
Improve the ability of each summer scholar to formulate research questions, design experiments, analyze data, draw logical conclusions and effectively communicate the findings
Increase the number of HWS students participating in original research projects
Provide summer scholars an opportunity to communicate their research by presenting their posters or papers at local, regional and national meetings
Allow summer scholars to infuse new ideas and technical expertise into their course work.
The program produces a steady stream of publications, helps support a research-active faculty, and ensures that students have the experience necessary to successfully enter graduate programs or careers in the sciences and social sciences.
To be selected for the program, students must demonstrate a compelling interest in the field of study and the potential to be outstanding researchers. Mentors for student research are selected from the Colleges' faculty and from the faculty of the New York State Agricultural Research Station, a division of Cornell University. The Summer Scholars are housed together by discipline so that they will continue to share information and develop friendships outside the laboratory, thus creating a research community.
Once the term ends, many students continue their research, often through independent studies or Honors Projects. Summer research scholars and their faculty mentors also present their work as a group to the campus and broader community during Family Weekend each Fall semester which is typically attended by more than 200 people.
Many of these scholars also have the opportunity to present their findings at national and regional conferences. Likewise, it is not unusual for summer scholars to co-publish articles with their faculty mentors in peer-reviewed journals.
One measure of the success of the program is the increase in the number of opportunities for students in recent years. The Undergraduate Summer Research Program has expanded from 18 students working with a handful of faculty mentors in 2002 to an average of 60 students working with 23-25 faculty mentors each summer over the past four years.
This year's opportunities include:
projects with faculty mentors on campus in biology, chemistry, geoscience, mathematics and computer science, physics, psychology, and writing and rhetoric.
an internship in the Audubon Seabird Restoration Project,
research positions at the New York State Agricultural Research Station and the Finger Lakes Institute,
Outcomes
The most telling evidence of the strength of a Hobart and William Smith education is the success of our students, a growing number of whom have received national recognition and have participated in a variety of competitive programs. For example, in recent years HWS students have received the following:
a Rhodes Scholarship
a Gates Cambridge Scholarship
a Marshall Scholarship
two consecutive Morris K. Udall scholarships
five Barry M. Goldwater Scholarships
a Fulbright Scholarship
Peace Corps Positions
Teach for America Positions
two American Chemical Society Scholarships
a National Oceanic and Atmospheric Administration (NOAA) Ernest F. Hollings Scholarship
UNCF/Merck Fellowships
four Council on Undergraduate Research Fellowships
two Merck externships
two NIH post-baccalaureate fellowships
FBI internships
an EPA internship
a Pfizer Fellowship
a GlaxoSmithKline post-baccalaureate fellowship
Our students regularly go on to graduate school at nationally-ranked institutions. Recent graduates have been admitted to programs at Yale, Columbia, Oxford, Cornell, Notre Dame, Johns Hopkins, Dartmouth, Carnegie Mellon, Brown, Penn State University, University of California - Santa Barbara and Boston College.