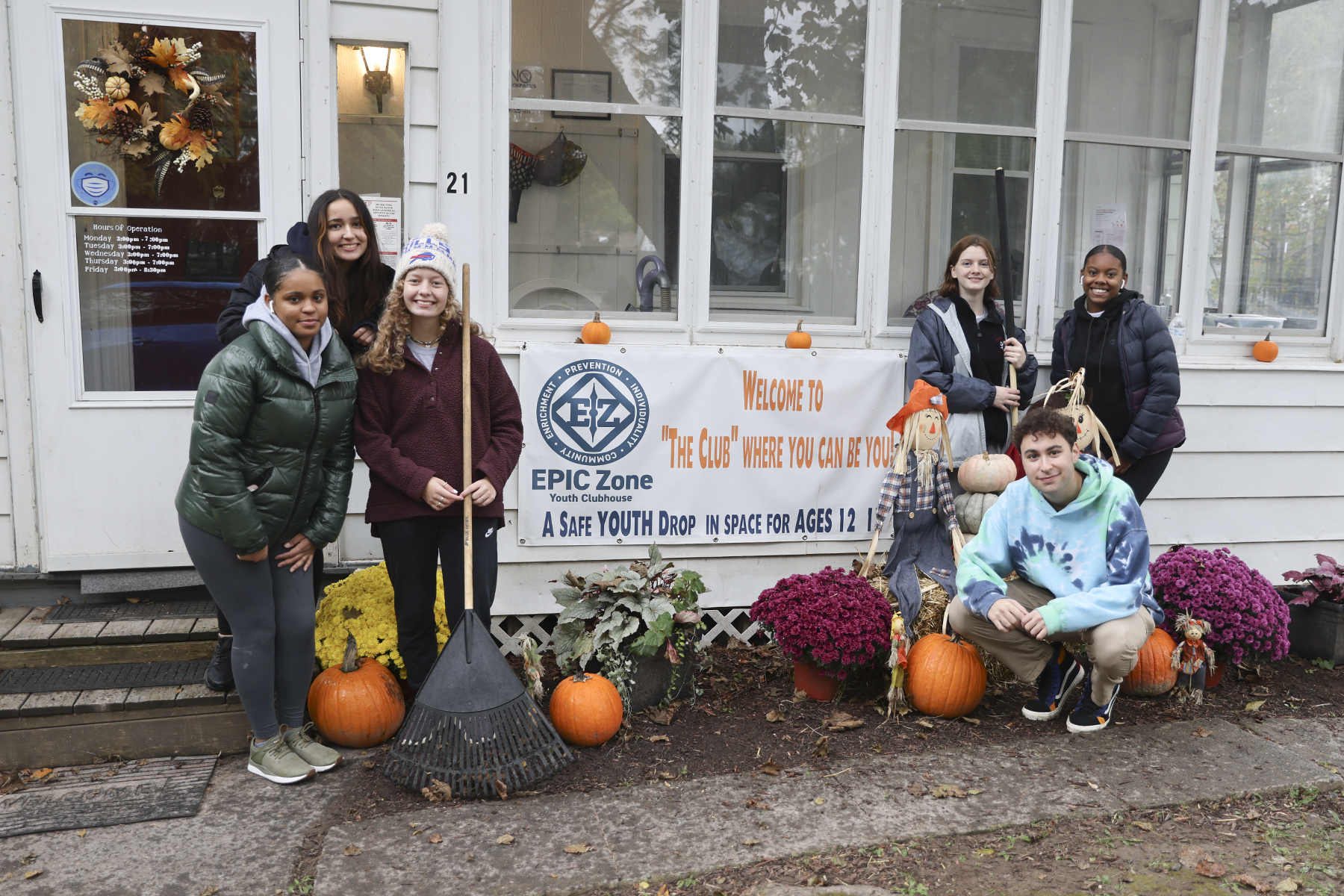 Programs and Initiatives
Community Service
Days of Service
HWS students show their commitment to community engagement during several Days of Service throughout the academic year. During each, volunteers from campus and the surrounding area come together with the common purpose of giving back to the greater Geneva community.
Past Days of Service activities have included working at the Special Olympics, providing trail maintenance on the Ontario Pathways, spreading wood chips on a playground in Seneca Lake State Park and visiting with residents at the Clifton Springs nursing home.
Community and campus sponsors make the annual event possible by donating time, money, supplies and other items to keep the program going. Past sponsors have included Sodexho, Hobart Student Government and William Smith Congress, Student Affairs, The President's Office, Walmart, B.E. Wright (Snapple), Pepsi (Geneva Club Beverage), Finger Lakes Health, Geneva Awning and Tent Works, Clemens Signs, John Holtz Honda, Wegmans Food Markets, and First Book. Sponsor logos appear on the back of the official Days of Service T-shirts worn by all volunteers. If you would like to contribute, please e-mail DOS@hws.edu.
A Geneva tradition for over 25 years, Day of Service became Days of Service in 2008, when students and the Center for Community Engagement and Service Learning added additional Days of Service throughout the year so more HWS and Geneva community members could get involved and to create sustained relationships between community members.
orientation Day of Service
Since the fall of 2000, the entering classes at HWS have participated in a service learning project during Orientation. This introduction to the community highlights the importance of service for the Colleges as an institution. Annually, students service at approximately 40 locations around Geneva and the Finger Lakes region. On this day, volunteers from campus and the surrounding area come together with the common purpose of giving back to the greater Geneva community.
Community Donation Effort
Founded in 2006, the Community Donation Effort is a partnership with several offices across campus, with CCESL and the Office of Sustainability overseeing the project. The effort features items that departing HWS students no longer need or can't fit into their cars for the trip home, saving them from going to waste. Students collect possessions such as furniture, appliances, lamps, kitchen items, rugs and other household items. Once collected, Community Donation Stewards sort, clean, and pack the items to be collected by community organizations who then distribute the items to their clientele. The collection also includes clothing and food, which CCESL donates directly to local non-profit agencies and food banks. An e-waste collection is likewise an important part of closing the residence halls. As of 2023, the effort has diverted over 118,000 pounds of materials from local landfills.
Blood Drive
In conjunction with the local Red Cross, CCESL sponsors three blood drives on campus annually; one in October on or near Halloween, one in February, and another in April. If you wish to donate blood off campus at another date or time, contact your local Red Cross organization to find local blood drive dates and locations. Please e-mail serve@hws.edu for more information.
Community Lunch Program
For two months out of the school year, the Colleges' community is in charge of Thursdays with the local community "soup kitchen." Students, sometimes with the help of faculty and staff, plan, prepare, and serve lunch to those in need in the Geneva area, as well as spend time with them over the meal. Students can and do volunteer at other times as well. This is a very popular service and new volunteers are always welcome. For more information, contact serve@hws.edu.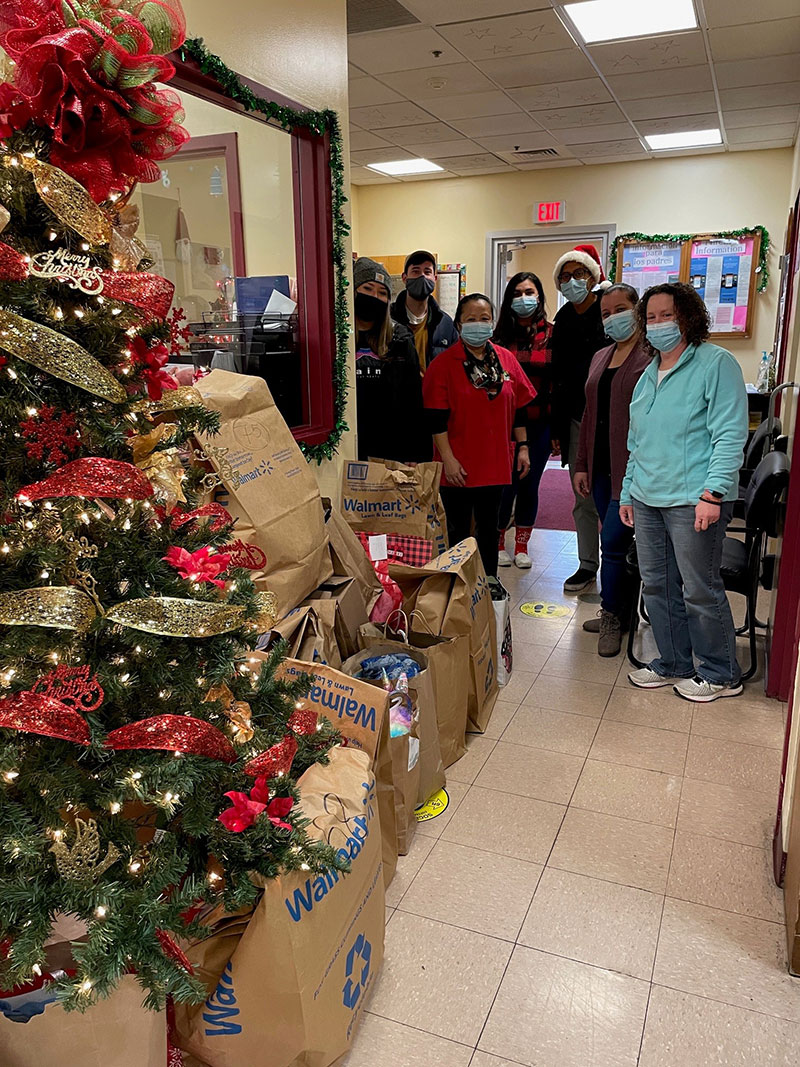 Holiday Gift Program
CCESL organizes a gift drive with local social service agencies which historically generates over $5,000 in gifts which are donated to local families in need. Gift collection begins in November and continues through the holiday season.
Civic Engagement
Alternative Spring Breaks
Alternative Breaks are an opportunity for students to travel off campus (usually), do service work together, and to reflect more deeply on themselves and societal issues that face us. Being with a group of students focused on performing service and reflecting on that work can be one of the most meaningful experiences one can have. It can also simply be fun to go to a new place, get to know new people and work together to make a meaningful change for an individual or an area.
Big Brothers, Big Sisters
Big Brothers Big Sisters matches children ages 6 through 18 with mentors in professionally supported one-to-one relationships. HWS helps with community-based mentoring in which Bigs and Littles meet for an hour a week in their community to share fun activities, stories and a little bit of themselves. Please email serve@hws.edu for more information.
Campus Big Brother & Little Brother in the News
HWS GEMS
GEMS focuses on mentoring students through the college process. College mentors meet weekly with local high school & middle school students with activities focused on learning more about college. For more information, please e-mail serve@hws.edu
Habitat for Humanity, HWS Chapter
With support from the Center for Community Engagement and Service Learning, students initiated and completed the process to form a campus chapter of Habitat for Humanity. The group regularly helps in the building of houses with the Yates and Ontario County Habitat affiliates. Since its inception, the group has worked to raise money for an "HWS House" in Geneva. Contact habitat@hws.edu or CCESL for more information on how to become involved.
HWS Corps
HWS Corps works with local schools and youth programs to connect HWS tutors and mentors with area schoolchildren.
HWS Corps hires and trains over 80 paid tutors each semester, allowing HWS students to work with local youth from 3 to 5 hours each week. HWS tutors and their younger counterparts make significant connections during tutoring and mentoring, greatly benefiting both tutors and tutees as they work together on finding academic success.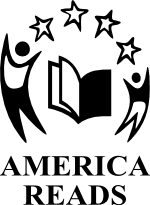 America Reads began in 1988 (starting as a more general literacy program and then evolving into the federal America Reads program in 1997). HWS has continued to support literacy in local schools and afterschool programs throughout the decades, allowing paid and trained tutors to work one-on-one with elementary students who need extra help in expanding their literacy skills and exploring the best parts of learning to read well.

The Boys & Girls Clubs of Geneva works in partnership with CCESL to send tutors to the Geneva Community Center to work with 4th-6th grade students and to the Goodman Street Club to work with 1st-3rd grade students. Many opportunities are also available in the areas of recreation and sports, arts and crafts, drama, music, leadership development, special events, computer literacy training and more!
America Reads tutors must be Federal Work Study eligible. HWS tutors at the Boys and Girls Club Geneva do not need to be work-study eligible.
If interested in applying for an HWS Corps position, please apply using HWS Engage.
For more information, please email serve@hws.edu.
HWS Votes
HWS Votes is a non-partisan group of student leaders devoted to voter registration and the continuous education of the Hobart and William Smith and Geneva communities. HWS Votes has helped well over 2365 students, faculty, staff, and Geneva community members register to vote, request absentee ballots, and receive election reminders.
Neighbors' Night
Neighbors' Night, hosted by St. Peter's Episcopal Church in downtown Geneva, welcomes between 50 to 100 children in grades K-8 every Wednesday evening from October through May (5:15 pm-7:00 p.m.) Activities include storytelling, song, crafts, skits, games, and a full dinner. Generous volunteers make this program a fun, safe, and loving environment. Email serve@hws.edu for more information.
Readers College Classes
The "CESL199" Civic Engagement and Service Learning half-credit courses provide opportunities for students to engage in and reflect upon critical social issues through reading, discussion, and experiential learning. Service learning is a vital component to each course, allowing students to apply in-class learning while having a positive impact on local, national, and/or global communities. Students are challenged to consider axioms including "to whom much has been given, much is expected," "what are the civic responsibilities of citizenship?" and "is action the best response to a societal ill?" Email serve@hws.edu for current CESL199 options.
Rotaract
Rotaract is the campus version of Rotary, an international service organization that has chapters across the world (the high school equivalent is Interact). Both Rotary and Rotaract promote service and international understanding. The HWS Rotaract sponsors a number of service activities and works with the Geneva Rotary Club on some of its events. This makes them true "partners in service" and key members of the family of Rotary. Contact serve@hws.edu for more information about how to get involved in Rotaract.
Service Learning and Community-Based Research
Community Based Research (CBR) and service learning are used in the teaching of many different subject areas. The types of community engagement used in these courses ranges from tutoring, child care, and preparing meals to developing and administering evaluation surveys for a local agency, designing the space for the local teen center or researching how gender affects the learning of students in Geneva.
Civic Leadership
Civic Leaders
CCESL Civic Leaders serve as the backbone support team for the Center's outreach efforts, programming, and civic engagement collaborations. Civic Leaders are outstanding students who have participated in a wide variety of community service throughout the community, and combined with curricular interests and leadership skills, have assumed a greater responsibility through oversight of specific programs. Civic Leaders collaborate as a cohort to support each other's endeavors, and maximize alliances with other student clubs and programs while working hard to support and build upon Geneva and extended community partnerships. Civic Leaders attend and reflect upon events throughout the year, and receive the President's Civic Leadership Award upon graduation.
Newman Civic Fellow
This year's Newman Civic Fellow is Jesse Whelan-Small '24. The Newman Civic Fellowship honors student leaders who have worked to find solutions for challenges facing their communities. The fellowship, through Campus Compact, provides training and resources that nurture students' assets and passions and helps them develop strategies to achieve social change. Read about past recipients here.
Community Based Research Project
Community Based Research (CBR) projects entail a semester long commitment devoted to the exploration of a vital community issue. Students with exceptional initiative work collaboratively with a community partner and faculty sponsor. Responsibilities vary based upon the specific details within the proposal and will likely include independent research, weekly check-ins with community partner and faculty sponsor, and a concluding presentation or project. CBR projects can count towards a student's major (see course requirements) or as Geneva Collaborative Internship (GCIP 401). Please review the application and contact Katie Flowers in CCESL.
Junior Board Program
Civic participation on boards of not-for-profits is critical to the functioning of our society and an important component of engaged citizenship. In collaboration with the HWS Centennial Center -- Leads Certificate Program, the Junior Board program gives students an opportunity to see how an agency governing board functions by serving on one during college and learning from local community leaders. Interested students are given training on "Board Basics" and then placed for a term of service on participating non-profit advisory boards. In the past, students have served on the following boards: Geneva Area Chamber of Commerce, Ontario ARC, Geneva Boys and Girls Club, Geneva Business Improvement District, Lochland School, Waterloo Historical Society, and Success for Geneva's Children. For more information, please email serve@hws.edu.
Service Club Officer
HWS Engage - type in a service organization you'd like to learn more about.
Summer of Service
Established in 2010 with support from Tom Patchett, Margueritte Murphy and Brian Cooper, the Summer of Service is an exciting partnership with local non-profit agencies through a collaborative internship program that will engage HWS students in 300 paid hours of service during June, July and August. The internship extends the goals of service learning courses and civic engagement in the Geneva community while supporting student endeavors by providing paid employment.