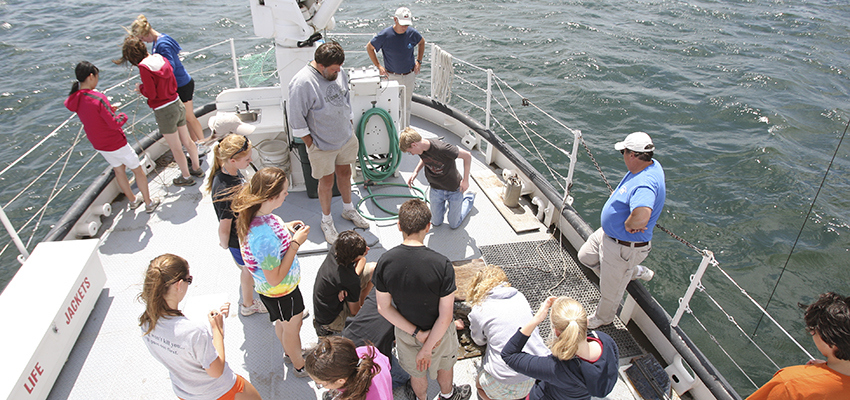 Donors Step Up to Fund Repairs to The William Scandling
9 December 2021 • Research • STEM Donors Step Up to Fund Repairs to The William Scandling
Thanks to the generosity of the Fred L. Emerson Foundation and other benefactors who value the work HWS performs both on campus and in the community, the Colleges' floating laboratory will continue its educational voyage.
The William Scandling, a 65-foot vessel built for the U.S. Navy in 1954 and launched by HWS in 1976, recently underwent a series of repairs at a Cleveland, Ohio, shipyard. A lead gift from the Emerson Foundation with additional support from the ESL Charitable Foundation, Five Star Bank, Lyons National Bank and many alums and friends of HWS, funded the work and round-trip voyage from Geneva this summer.
"It's been very special to be at the helm during this important part of The William Scandling's history, to have guided her on a journey of great beauty and challenges through the Welland and Erie Canals, Lake Ontario and Lake Erie," says Dave Brown, captain of the vessel.
When it became apparent the vessel needed work, HWS retained a certified marine surveyor who detailed the needed repairs, including replacing sections of the steel hull, repairing forward and rear deck hatches, and repainting large sections of the boat.
"Everyone involved should be proud to have helped extend the 70-year-old ship's life, and in turn support the educational missions that she serves," says Brown.
The William Scandling has provided a distinct venue for coursework, research and community engagement since embarking on its maiden Seneca Lake voyage more than 40 years ago. On board the ship, HWS students pursue unparalleled experiential learning opportunities under the tutelage of faculty and staff experts who have heightened their acumen via experiments and conservation projects conducted alongside colleagues from other schools and in concert with the Colleges' Finger Lakes Institute.
These investigations have yielded vital information on the physical, chemical, biological, geological and broader environmental properties of Seneca Lake, from waves and currents, to water quality and pH, to plankton and invasive species.
The William Scandling is also home to Science on Seneca, the EPA-award winning environmental education program for middle and high school students that attracts aspiring scientists from across the region. Students use current methodologies and state-of-the-art equipment to conduct water quality research—learning tools unavailable in their schools.
"This community aspect of The William Scandling was of particular interest to many of our donors," says Jerry Buckley, Director of Corporate and Foundation Relations and Legislative Affairs at HWS, who notes that fundraising is continuing to outfit the boat with new equipment and technology.
"It's gratifying that so many donors came forth to ensure that the structure of the vessel is in safe working order," says Brown. "Thank you, on behalf of my faculty and staff colleagues, HWS students, and the students and teachers from the many high schools in the Finger Lakes."
Since the repairs were completed, The William Scandling has completed 63 cruises, including 39 for HWS (Higher Education Opportunity Program, geoscience, and environmental studies classes, as well as professional research and senior independent projects); four for other colleges (Wells, Syracuse, Ithaca and Finger Lakes Community College); and 20 Science on the Seneca programs.