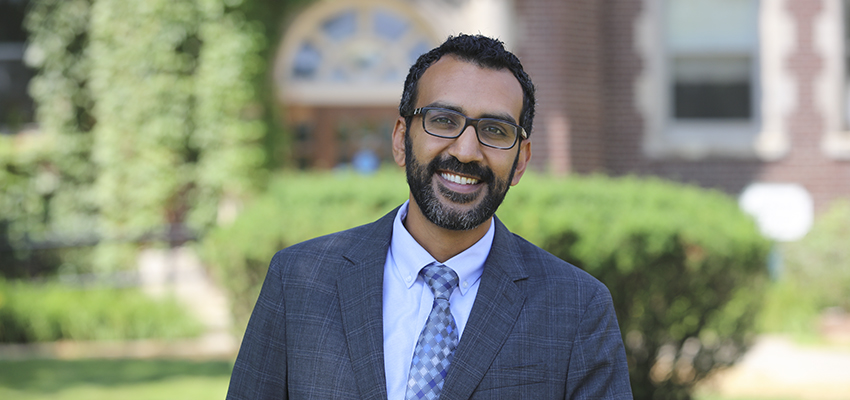 HWS News
10 June 2021 • Faculty Investigative Journalism, the Nation of Islam and Racial Uplift
An article about Muhammad Speaks by Khuram Hussain, Vice President for Diversity, Equity and Inclusion, is featured in JSTOR Daily.
In an article this month, Associate Professor of Education and Vice President for Diversity, Equity and Inclusion (DEI) Khuram Hussain details how the official newspaper of the Nation of Islam "combined investigative journalism and Black Nationalist views on racial uplift."
"Muhammad Speaks for Freedom, Justice, and Equality" summarizes the history of the weekly newspaper and looks closely at three illustrative issues "during various political and cultural inflection points throughout the 1960s and 70s."
Read the full article on JSTOR Daily, an online publication that contextualizes current events with scholarship from the JSTOR digital library.
"During the late 1960s, Muhammad Speaks was the most widely circulated Black-operated newspaper in the United States. While it is often associated with the fiery images and ominous messaging of its front covers, it was far more than a sensationalist tabloid," Hussain writes. "Its combination of community-oriented investigative journalism and Black Nationalist views on racial uplift made it a distinct voice in Black communities for news and commentary. It served as an important source of information for civic leaders, and grassroots organizers, like CORE and the NAACP, as well as those surveilling Black communities such as the FBI and the Ku Klux Klan."
The article reflects Hussain's research for his forthcoming book, Weapons for Minds: The Political Imagery of Muhammad Speaks, 1960 – 1975, under contract with Johns Hopkins University Press.
The article also cites The Dead Are Arising: The Life of Malcolm X, the epic biography of Malcolm X, begun by the late Pulitzer Prize-winning investigative journalist Les Payne P'88 and completed by his daughter Tamara Payne '88. The Dead Are Arising won the 2020 National Book Award for Non-Fiction and the 2021 NAACP Image Award for Outstanding Biography, among other honors.
Hussain completed his Ph.D. in cultural foundations of education at Syracuse University where he was awarded the All University Dissertation Prize. He has published dozens of peer-reviewed essays related to media, education and anti-racism. He is a member of the Black Press Research Collective, and for 20 years has served as a dialogue facilitator, trainer and consultant to schools, universities, government offices, non-profits and community organizations on issues of diversity and equity. His work has been recognized by the NAACP, the U.S. Armed Forces, and community and campus organizations nationwide, as well as by HWS faculty.
Hussain is the co-founder of Tools for Social Change (TFSC), a dialogue-driven initiative that advances equity and inclusion in the Finger Lakes. As a member of TFSC, he helped design and facilitate Geneva's largest grassroots self-study on diversity, equity and land use. Hussain also collaborated with the U.S. Department of Justice to sustain Geneva's Community Compact between communities of color and law enforcement.
Before his position as HWS Vice President for DEI, he served as Dean of Hobart College from 2018 to 2020. In his courses, Hussain and his students explore the efforts of social actors that attempt to reinscribe education as a site for culturally responsive, community-oriented, democratic learning.