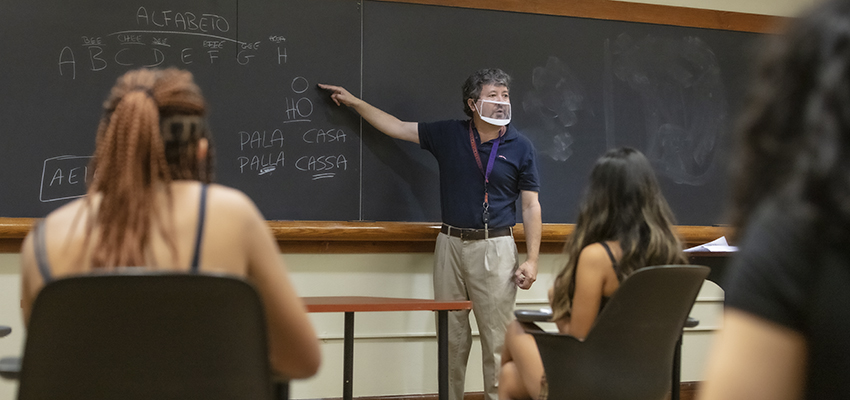 HWS News
30 June 2021 • Faculty Lucci Selected as 2021-22 Kinghorn Fellow
Sebastiano Lucci, director of the Self-Instructional Language Program and instructor of Italian, is the 2021-22 John R. and Florence B. Kinghorn Global Fellow.
For his dedication as a scholar, teacher and colleague, Sebastiano Lucci has been named this year's recipient of the John R. and Florence B. Kinghorn Global Fellowship. A scholar of international cinema and a longtime teacher of Italian language and culture, Lucci leads the Self-Instructional Language Program at HWS.
Established in 1970 and generously endowed by Dr. and Mrs. William Reckmeyer in honor of John Readie and Florence B. Kinghorn, the fellowship honors outstanding faculty at HWS who have exemplified global citizenship on a continued basis. This excellence can be demonstrated through research and writing, mentoring independent studies or Honors projects, leading international study programs with an emphasis on citizenship, working with third-party organizations and/or encouraging global enrichment programs on campus.
"Alongside his scholarship, Professor Lucci's dedication to his students and colleagues enriches the Colleges' globally oriented education, whether here in Geneva or in Rome," says Provost and Dean of Faculty Mary L. Coffey. "I am proud to congratulate Professor Lucci for this recognition, and I am grateful to Dr. and Mrs. Reckmeyer for supporting our faculty and enhancing our community's understanding of the world."
During his appointment period, Lucci will deliver the Kinghorn Global Fellow Lecture. Determined by the Kinghorn Global Fellow, the lecture topic must be connected to global citizenship and reflective of the work done to qualify for the award. Lucci will also receive a stipend of $3,000 to be used in the spirit and nature of the award.
In her letter nominating Lucci for the fellowship, Associate Professor of Media and Society and the 2020-21 Kinghorn Fellow Lisa Patti writes that Lucci is a "dynamic, inspiring, and empathetic professor who makes the daunting process of learning a new language (and one that the students will soon have to use in action abroad) both accessible and exciting."
In preparing students and faculty for the Colleges' study abroad program in Rome, Lucci offers vital guidance "both as a language teacher and as a colleague with a sprawling knowledge of Roman culture," Patti says. "Professor Lucci joyfully embraces so many different roles on campus for so many people that it is difficult to fathom how he manages to perform each one with such dedication and such excellence. I cannot imagine a more deserving recipient for the Kinghorn Fellowship."
Courtney Wells, associate professor and chair of the French and Francophone Studies Department, says that Lucci "is a born scholar…an engaged intellectual, and a dedicated teacher. Moreover, he is a generous colleague and an invaluable resource for our campus community."
Read more about the Kinghorn Fellowship and previous fellows.
Lucci, who speaks four languages, is the author of books on the producer and screenwriter Val Lewton and actor Richard Gere. He has edited five books, including volumes on the work of Robert Altman and Andy Warhol, and written dozens of scholarly articles, film reviews and encyclopedia entries. In the past decade, Lucci has delivered more than a dozen presentations at conferences and symposia, at HWS and across the country. A member of the HWS community since 2001, he teaches Italian language and culture and regularly oversees independent studies. He holds a doctorate in modern languages from Middlebury College and a laurea (equivalent to a master's degree) in modern languages from the University of Rome.