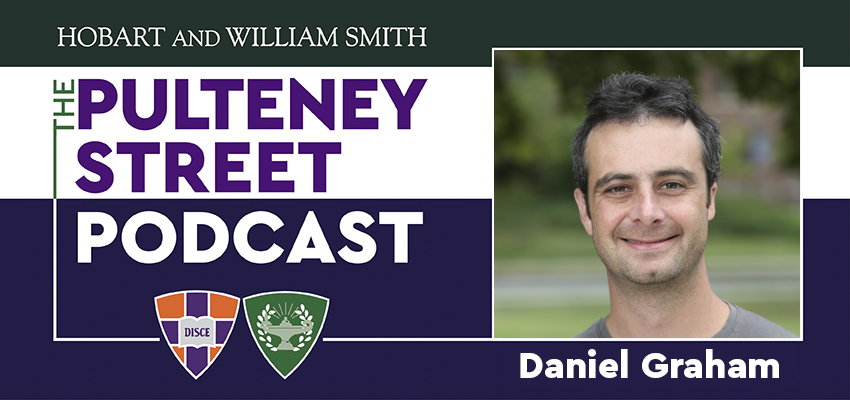 HWS News
14 September 2021 • Faculty Pulteney Street Podcast: An Internet in Your Head
The third season of Pulteney Street Podcast kicks off with Associate Professor of Psychological Science Daniel Graham, whose new book explores the parallels between the internet and the human brain.
On the latest issue of the Pulteney Street Podcast, President Joyce P. Jacobsen and Associate Professor of Psychological Science Daniel Graham discuss how the brain and the internet solve similar problems — and why the brain-as-internet metaphor is pushing psychological research into new territory.
In his new book An Internet in Your Head, Graham proposes that the best metaphor for the human brain is the internet. As Graham has explained on his Psychology Today blog, Your Internet Brain, this new paradigm can open new avenues of research, allowing neuroscientists to unravel the brain's routing mechanisms and help unlock its deepest secrets.
Both the internet and the brain are "big, highly connected systems," Graham explains, "but there's no central thing that's controlling [either one]. There's no little person inside of our head that's directing all the signals and telling us what to do or making sure that everything works. It's just implemented through local rules, and the internet is really the same way. There's no central place where all messages go and then get passed along. There are local rules that make sure that everything works." This model — a decentralized network of connections — offers promising avenues of research not only for psychologists and neuroscientists, but computer scientists as well.
Graham specializes in the field of sensory and perceptual psychology, performing experimental, theoretical and computational research related to visual processing and neural network communication. His research spans computational and theoretical studies of natural vision coding in the retina and visual cortex, network science approaches to understanding dynamic activity on the connectome and human visual aesthetics and art-making from a statistical/computational perspective.
Graham's scholarship has appeared in Behavioral and Brain Sciences, Proceedings of the National Academy of Sciences, Vision Research and other journals. A member of the HWS faculty since 2012, he earned his B.A. in physics from Middlebury College and his M.S. in physics and Ph.D. in psychology from Cornell University.
Podcast: Play in new window | Download
Subscribe: RSS