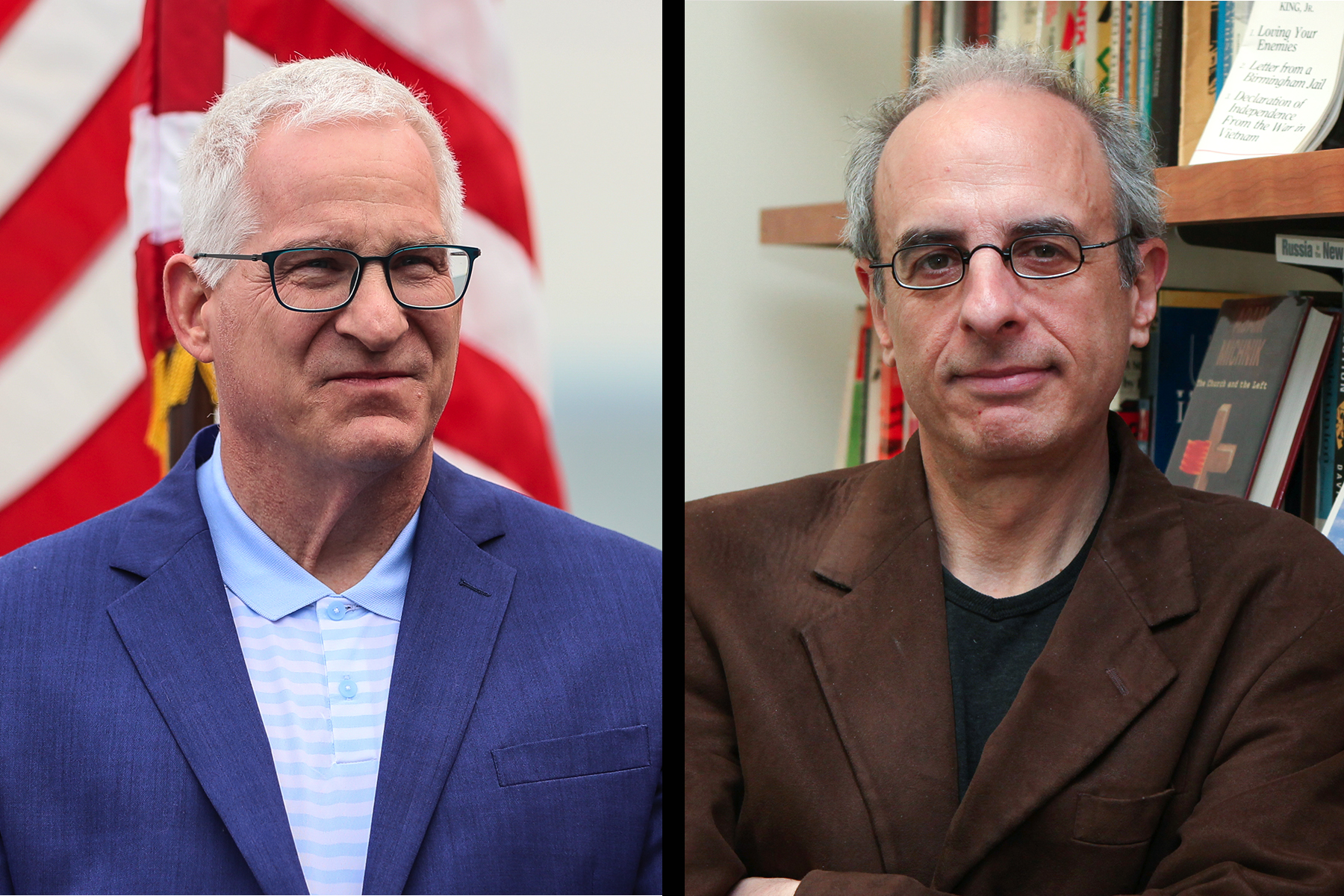 HWS News
24 February 2022 • Faculty HWS Experts Discuss Russian Invasion of Ukraine
John Sipher '83, P'19, who worked for the CIA's clandestine service for 28 years, and Professor of Political Science David Ost, an expert on Eastern European politics and society, unpacked the latest developments in the unfolding crisis.
In a webinar on Friday, Feb. 25, President Joyce P. Jacobsen hosted a conversation between John Sipher '83, P'19 and Professor of Political Science David Ost, who reflected on the motives, stakes and geopolitical implications behind the Russian invasion of Ukraine.
The webinar can be viewed here.
In a message to the HWS community on Thursday, President Jacobsen shared her "profound sympathies to those of our community who are Ukrainian citizens, who have family ties to Ukraine, and to all who find this hegemonic and anti-democratic act to be deeply disturbing….[O]n a dark day as Russian forces are invading Ukraine and the world is determining how best to respond…I am seeking insight from those who have dedicated their careers to this topic, who are authorities on the region and its people, and who understand the complicated politics and economics at play, and the history that may be driving decisions."
Sipher retired in 2014 after a 28-year career in the Central Intelligence Agency's National Clandestine Service. At the time of his retirement, he was a member of the CIA's Senior Intelligence Service, the leadership team that guides CIA activities globally. An expert on Russia, he served multiple overseas tours as Chief of Station and Deputy Chief of Station in Europe, Asia and in high-threat environments. He served as a lead instructor in the CIA's clandestine training school and is the recipient of the Distinguished Career Intelligence Medal. Now a sought-after foreign political and intelligence expert, his articles have been published in the New York Times, The Atlantic, Politico, the Washington Post and Newsweek, among many others. He regularly appears on the PBS Newshour, CNN, MSNBC and BBC. He is a nonresident senior fellow at the Atlantic Council and co-founder of Spycraft Entertainment. He has a master's in international affairs from Columbia University. At Hobart, he was the captain of the four-time national champion lacrosse team.
Ost has traveled throughout the region, including about six months in Russia and several weeks in Ukraine. He has written widely on Eastern European politics with a focus on political economy, democratization, capitalism and labor. His books include Solidarity and the Politics of Anti-Politics, Workers After Workers' States, The Defeat of Solidarity: Anger and Politics in Postcommunist Europe (2005); and the special 2015 issue of East European Politics and Societies titled "Class After Communism." His articles have appeared in journals such as Politics and Society, Eastern European Politics and Society, Constellations, European Journal of Social Theory, Comparative Politics, Theory and Society, Perspectives on Politics, European Journal of Industrial Relations, The Nation, Dissent, Telos and Tikkun. He serves on the editorial boards of several scholarly journals in the U.S. and Poland. In 2005, former Polish President Lech Walesa presented Ost with a special medal issued for the 25th Anniversary of Solidarity.