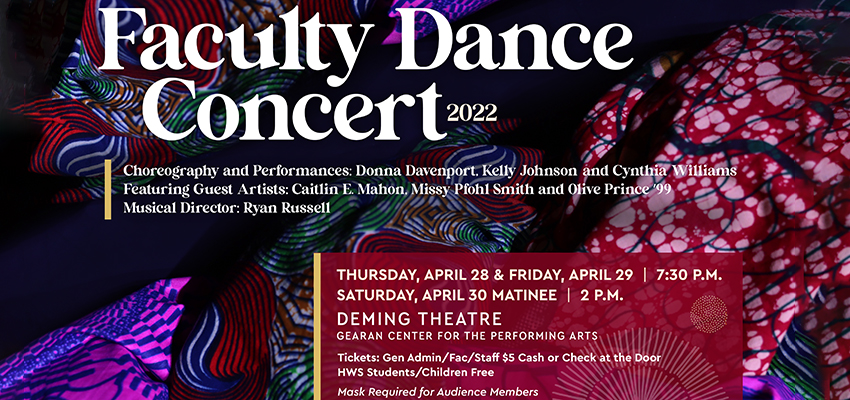 HWS News
29 June 2022 • Arts • Faculty Faculty Dance Concert 2022
Three Faculty Choreographers join Guest Artist Olive Prince '99 in three performances.
The HWS Dance Department will celebrate its first in-person live Faculty Dance Concert since 2019 with three performances scheduled for Thursday, April 28 – Saturday, April 30 in the Deming Theatre of the Gearan Center for Performing Arts.
"This year marks the return to Deming Theatre and we are eager to enliven the space with new dance works," says Assistant Professor of Dance Kelly Johnson who is organizing this year's production.
The concert will feature the performances of department faculty members and selected student dancers, including three ensemble works choreographed by Johnson, guest artist and alum Olive Prince '99 and Professor of Dance Cynthia Williams. Additionally, Professor of Dance Donna Davenport and Johnson are performing collaborative works in conjunction with Rochester dance artists Caitlin E. Mahon and Missy Pfohl Smith, a former dance professor at HWS. Ryan Scott Russell is musical director.
The concert begins with Johnson's ensemble choreography, Crown Rising, featuring live percussion and movement from Guinea, West Africa. "Themes of fusion, sisterhood and feminine energy guided the work, along with the sheer joy that dancing with a community brings," says Johnson. "We hope that our shared joy may act as a reminder to practice gratitude."
Prince is a veteran Philadelphia performer and director of Olive Prince Dance. She describes her ensemble work, In the dawn of the cold season, as inspired by the life and work of Iranian feminist poet Forugh Farrokhzad. Prince's choreographic process utilized Farrokhzad's creative prose and imagery as a point of departure for developing movement and relationships. Additionally, observations of the natural world and reflections on shifting moments became the foundation of the choreographic process.
Williams' ensemble choreography, Canticle in Darkness and Light was first created in the wake of September 11, 2001 and was a meditation on time, loss and the struggle to find hope. Williams says using movement material and the Bach Chaconne, she collaborated with her current ensemble dancers to explore themes of resiliency, community and support. "In a year of on-going challenges, I find comfort in the expressive power of dance and the beauty of these dancers," Williams says.
Davenport has two works in the concert: a film that is a collaborative research project with Emma Pinker '23 and a duet performed live with Smith. Davenport's film, colors of color, celebrates Black voices moving in vivid colors. Ships in the Night is a sardonic duet about distance and partnership featuring Davenport and Smith, who is the artistic director of BioDance Company in Rochester, N.Y.
The second faculty duet of the concert, Still Lives Here, is choreographed and performed by Johnson and Mahon. "It was important for us to make a work that reflected our shared movement experiences," says Mahon. In this duet, Johnson and Mahon move in the past, present and future at once, over a shared terrain. Still Lives Here was created to honor the body as an archive of lived experiences and with that, the value of ancestral knowledge.
The Faculty Dance Concert will open on Thursday, April 28 at 7:30 p.m. and will be presented again on Friday, April 29 at 7:30 p.m. and Saturday matinee, April 30 at 2 p.m. Tickets are $5 cash or check for general admission, including faculty and staff, and are free to HWS students and children. Tickets are available at the Gearan Center for the Performing Arts box office 30 minutes prior to curtain. To ensure the safety of our community, all audience members are required to wear a mask.
For further information, email Kelly Johnson at kjohnson@hws.edu