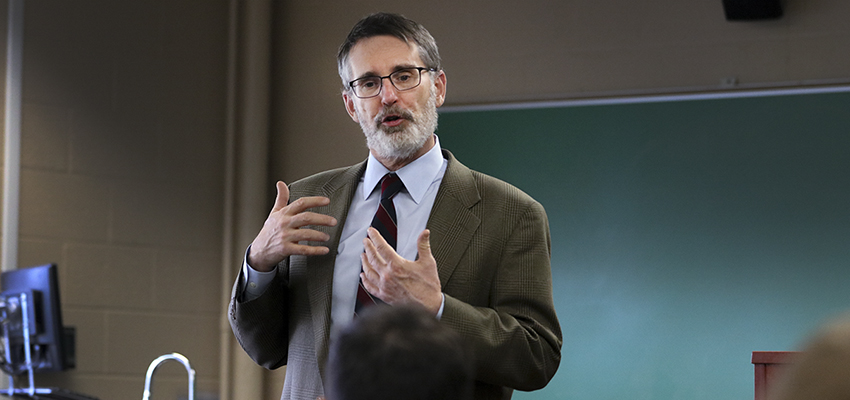 HWS News
24 July 2022 • Faculty Hood Discusses NYC Subway History on American Built
Clifton Hood, the George E. Paulsen '49 Professor of American History and Government, is featured on Fox series about engineering marvels.
An expert on New York City's subway system, Professor of History Clifton Hood will appear on the New York City subway system episode of American Built. The Fox series featuring interviews with renowned architects, engineers and historians about engineering marvels.
The episode premieres on Fox Business Network on Tuesday, May 31 at 8 p.m.
Hood is the author of 722 Miles: The Building of the Subways and How They Transformed New York, which "traces the complex and fascinating story of the New York City subway system, one of the urban engineering marvels of the twentieth century," the publisher notes.
He is also the author of In Pursuit of Privilege: A History of New York City's Upper Class and the Making of a Metropolis and is working on a third book examining imposters in the United States. He has delivered dozens of papers and presentations at international conferences, and his writing and scholarship has been published in leading scholarly journals and national periodicals. He is also doing preliminary work on an upcoming fourth book that will explore the relationship between core and periphery in industrial and post-industrial Pittsburgh; Hood is a native of a steel town outside of Pittsburgh.
A member of the HWS faculty since 1992, Hood teaches a range of courses exploring American urban history, environmental history, elites in America, and U.S. ethnicity and immigration. He holds a bachelor's degree summa cum laude from Washington University and a master's and doctorate from Columbia University. He served as senior Fulbright Lecturer in Seoul National University in South Korea. In 2017, he was appointed to the George E. Paulsen '49 Professorship for a second term, making him the first professor to hold the distinguished honor twice.