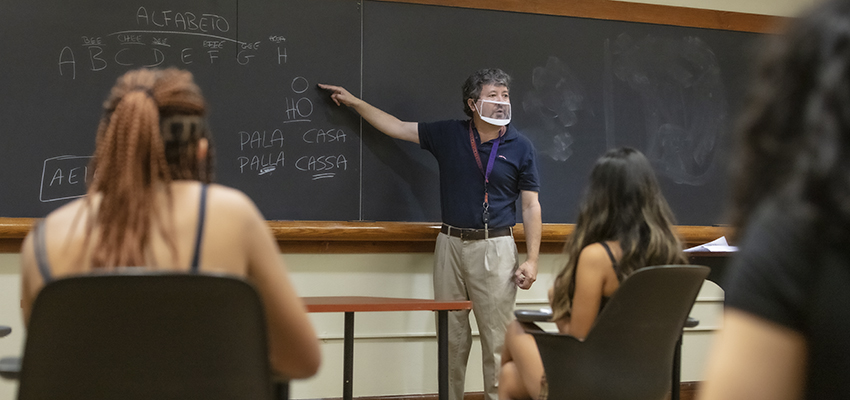 HWS News
30 March 2022 • Arts • Faculty Once Upon a Time in the Italian Western
Sebastiano Lucci, the 2021-22 Kinghorn Global Fellow, explores the international cinema influence of the "spaghetti western" genre.
Sebastiano Lucci, instructor of Italian and director of the Less Commonly Taught Languages, will reflect on the birth, development and culmination of the midcentury westerns made by Italian filmmakers like Sergio Leone.
Part of his 2021-22 John R. and Florence B. Kinghorn Global Fellowship, Lucci's talk, "Once Upon a Time in the Italian Western," draws on Alberto Moravia's observation that the "Italian western was born not from ancestral memory but from the herd instinct of filmmakers who, when young, were head over heels in love with the American western. In other words, the Hollywood Western was born from a myth; the Italian one is born from a myth about a myth."
"Spaghetti westerns" — a term first used as a derogative term to refer to the low-budget, 1960s Italian movies shot in Italy, or in the desert-like southwest region of Spain, Murcia, or in Yugoslavia — evolved into a laudatory expression that celebrated the productions' explosive and unique style. Lucci will examine the main directors, writers, themes and motifs that characterize the 500-plus films that constitute the genre comprise, and he will analyze the image Italians had of the "west" and Hollywood films that existed in post-war Italy. Finally, he will consider how the genre inspired movements and directors from all over the world, including Quentin Tarantino, Robert Rodriguez, Takashi Miike and John Woo.
Lucci's talk will begin at 5:30 p.m. on April 14 in the Sanford Room of the Warren Hunting Smith Library.
A scholar of international cinema and a longtime teacher of Italian language and culture, Lucci also oversees the Less Commonly Taught Languages Program at HWS. He was selected as the John R. and Florence B. Kinghorn Global Fellow last year for his dedication as a scholar, professor and colleague.
Established in 1970 and generously endowed by Dr. and Mrs. William Reckmeyer in honor of John Readie and Florence B. Kinghorn, the fellowship honors outstanding faculty at HWS who have exemplified global citizenship on a continued basis. This excellence can be demonstrated through research and writing, mentoring independent studies or Honors projects, leading international study programs with an emphasis on citizenship, working with third-party organizations and/or encouraging global enrichment programs on campus.
Read more about the Kinghorn Fellowship and previous fellows.
Lucci, who speaks four languages, is the author of books on the producer and screenwriter Val Lewton and actor Richard Gere. He has edited five books, including volumes on the work of Robert Altman and Andy Warhol, and written dozens of scholarly articles, film reviews and encyclopedia entries. In the past decade, Lucci has delivered more than a dozen presentations at conferences and symposia, at HWS and across the country. A member of the HWS community since 2001, he teaches Italian language, film and culture and regularly oversees independent studies. He holds a doctorate in Italian and French from Middlebury College and a laurea (equivalent to a master's degree) in modern languages from the University of Rome.