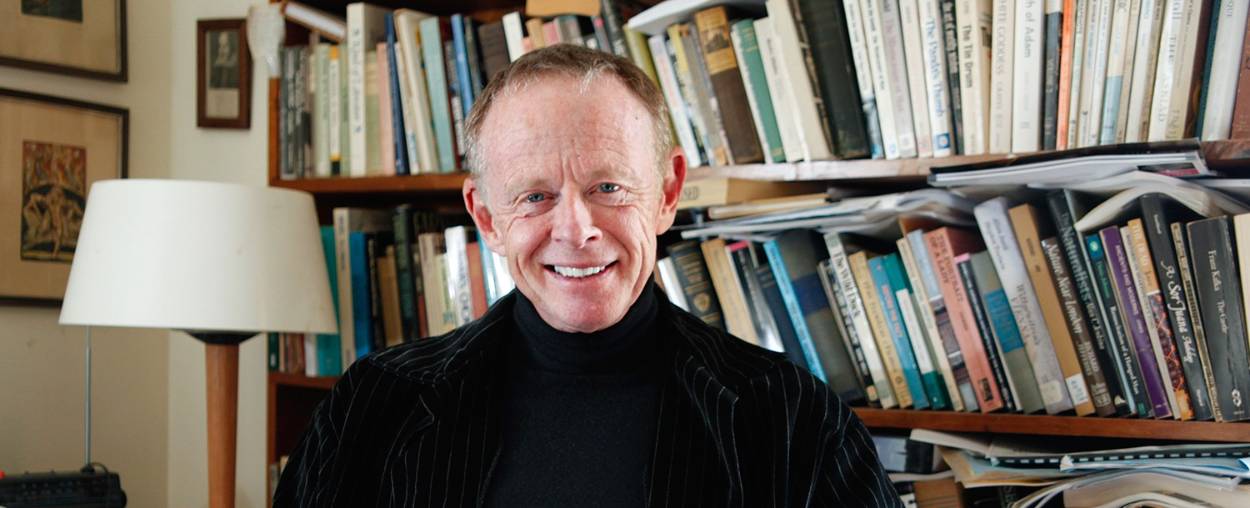 HWS News
10 November 2022 • Faculty Remembering Professor Grant Holly
Professor of English Grant Holly, the longest serving Hobart and William Smith faculty member, passed away Nov. 8.
A member of the Hobart and William Smith faculty since 1970, Professor of English Grant Holly is remembered by the HWS community for sharing his passion for learning with generations of students as well as being a successful screenwriter, scholar of literary theory and valued colleague. Holly passed away on Nov. 8. A Spiritual Service of Thanksgiving celebrating his life will be held on Friday, Nov. 18 at 2 p.m. in the Vandervort Room of the Scandling Campus Center.
After earning his Ph.D. from the University of Rochester, Professor Holly joined the faculty in 1970 with an appointment to the English Department. During his tenure, he taught a range of courses, including screenwriting, 18th-century literature, literary theory and psychoanalysis, and literature. He mentored many Honors students, led study abroad programs and was instrumental in establishing the Colleges' vibrant program in Los Angeles that allows students to spend a week meeting with alums. In addition to his academic career, Professor Holly produced screenplays, wrote TV pilots and worked on rewrites for Columbia TriStar. An accomplished scholar, he wrote many articles and reviews on such figures and topics as Swift, Pope, Blake, Austen, the novel, literary theory, and early voyages of exploration.
In a letter to campus, President Mark D. Gearan made the campus aware of Professor Holly's death and offered words on his legacy at HWS. "In his mentorship of students, his scholarship and screenwriting, and his support of the arts, Grant Holly demonstrated a commitment to this community that lasted more than half a century. With energy and enthusiasm, he approached each class and each student as an opportunity to share his love of the world," Gearan said.
Subsequently, members of the campus community have offered a stream of reflections and memories, some of which are included below:
Film Producer, Writer and Director Mark Neveldine '95: "Grant's charisma is what I will miss the most. His energy and excitement for others was magnetic and inspiring (and rare). He poured so much into his students and continued to stay in touch with them, encouraging them to keep going and take chances on whatever they were passionate about. Grant knew instinctively that everyone's path was different and leaned us into our strengths. He was equally a master of psychology and philosophy as he was of English and the arts. I'm writing this right now thinking I'll talk to Grant in a couple of weeks. This is difficult for me because Grant meant so much to me, and my wife also adored him. Grant and I stayed in touch from the moment I graduated and it was Grant's encouragement that was one of the reasons I had the confidence to dive into the wild world of entertainment. Many times I have thanked Grant as one of my mentors and cited him as the reason I've had the success I've been blessed with. And every single time Grant would deny this and tell people I did it on my own. I'm so glad that you were in my life, Grant. I'm indebted to you and everyone knows it. I'll miss you, dude. God Bless. Your student, your colleague and friend, Mark Neveldine"
Former Executive Editor of the New Yorker Dorothy Wickenden '76, L.H.D.'14: "Grant Holly taught me why I should love Jane Austen, and how to write. That was back in 1972, when I was a freshman and he was a dynamic young professor with an infectious excitement about what I'd assumed was staid 18th-century English literature. Each week, he assigned us a single-page paper, not a word more--emphasizing the importance of clarity and concision. I remember sitting at my manual typewriter in my dorm room, reworking those papers until I'd made one strong point about a novel we'd just read, on one sheet of Eaton's Corrasable Bond. His criticisms were always constructive; never deflating. I've tried to use those lessons ever since--as a reader, writer, and editor. Over the years, I occasionally heard from him. After I spoke to Hobart and William Smith's class of '19, he emailed to say of the talk, "It was honed to the issues that matter most to those young graduates who are about to take what they've learned in the zoo out into the jungle. The fear of failure haunts them all, whether or not they're fully aware of it, and it's not a bad thing, as long as they're willing to take the dare.""
Associate Professor of Writing and Rhetoric and English Geoffrey Babbitt: "Grant had a big presence. He was a charming bon vivant and a natural storyteller. I greatly admired his breadth of learning and his exceptional sense of humor. He had a joke or a funny story for seemingly every occasion imaginable, and yet I never once heard him repeat himself. He was also an exceedingly kind and generous person. His absence will be acutely felt on campus."
Technical Services Manager Stefan Baer '95: "I remember I first got to know Grant Holly when I was a child. I must've been around 10 and my family was invited to his house for a pancake brunch. I'm sure my father, Eugen Baer, saw Grant regularly as their offices were in the same building. (Philosophy was on the 3rd floor of Demarest at the time.) I remember thinking Grant was a kind, funny, and cool guy. ... Yeah, Grant was just a really fun guy. I didn't see him much as an adult, but always loved running into him, both when I was a student in the 90s and then in the "new millennium" as a staff member. He always had the same office, and I loved walking by his door… I'm really going to miss seeing him now."
George E. Paulsen '49 Professor of English Anna Creadick: "As a department colleague, [Grant Holly] was unflagging, generous, and seriously committed to doing the hard work of hires, reviews, and revisions of the curriculum. But he was also warm, very funny, and so much fun. In terms of my career, he was not just supportive but sincerely and deeply invested. He read my work, believed in my work, and constantly praised my work to such a degree that it helped me believe in myself and produce more of it. At some key turning points in my career, he said things to me that were so helpful, so wise, that I scribbled them on bits of paper and stuck them on the walls of my office so as never to forget them. On a daily basis in Demarest Hall, Grant shared his delicious sense of humor, and was a champion raconteur. I will try my level best to carry forward the many hilarious stories he told over the years, to honor this quality in him. Grant was ageless, with a twinkling and genuine excitement about the world that was almost boyish. It is this quality, a perpetually youthful joyousness, that I will miss most about Grant, and I think this is why all of us are so completely stunned, so confused that he could be gone. Grant truly and deeply loved what he did, and although he was scheduled to finally retire after this semester, I know that he didn't really want to leave HWS. This place will never be the same without him. And neither will I."
Professor of Dance Donna Davenport: "I worked with Grant on various committees over the years and always appreciated his intelligence, wit, and investment in the students of HWS. One memory that stands out is our work together for the Teagle Grant on the "goals;" he was so smart about undergraduate education. Grant was the quintessential Liberal Arts professor–deeply knowledgeable about knowledge itself, thinking and learning, and the value of aesthetic education and artistic practice. Before we used the word "transdisciplinary," Grant Holly was doing it. For decades I have welcomed his commentary about anything; he was often funny and always insightful."
Executive Director of Career Services Brandi Ferrara: "I got to know Grant through the Behind the Scenes career trek. This program started much in part due to Grant's passion for helping students understand the entertainment industry. He wanted them to experience firsthand what it took to not just write a great script, but what it took to go from script to screen. I laugh at all the times I had to corral Grant back to the group while on set of a television show or during a site visit to an organization. He was always eager to talk with every person behind the scenes, making sure students understood each individual role. The alums that hosted site visits or talked on our panels praised their experiences at HWS, but focused on their faculty, including Grant, who encouraged and guided them. Grant's relationships with his students have lasted decades beyond graduation. He was always connecting us with new people to include in our trip – so many so that the program had to grow in length. His dedication was admirable, but I will miss his sense of humor, quick wit and passion most of all."
Assistant Professor of Media and Society Jiangtao Harry Gu '13: "Grant once told me a story that he used to keep his baby daughter Lauren in his office desk drawer because he and his then partner Michael couldn't find child care. It all made sense when I learned later that Grant was instrumental in the creation of the maternal leave policy on campus. Grant was so vital in everything he did. He embodied the kind of intellectual and person we aspire to be. I will miss his wonderfully eccentric, charming, and stylish presence."
Professor of Sociology Jack Harris P'02, P'06: "When I was interviewed in Spring, 1974, Grant Holly took the time to come to my presentation to the faculty. His questions were probing, but kind. It was my introduction to interdisciplinarity at Hobart and William Smith. I will be forever grateful for the model that Grant was – curious, willing to cross disciplinary boundaries, and with great wit! I also served on committees with Grant, and he was a fierce advocate for faculty. I will miss him."
Associate Professor of English and Comparative Literature Alla Ivanchikova: "Grant was one of my favorite people here at HWS. He was on the hiring committee that offered me the job, and he really managed to "sell" the place to me as the ultimate liberal arts college teaching experience. Which, of course, it is. :) He was always energetic, passionate about ideas, a good conversationalist, and had a great sense of style. You noticed when he walked into a room. One thing that I loved about Grant is that he really listened. He would come into my office or approach me in the corridors of Demarest and ask, what do you think about X? X being a theory trend, a novelist, or an idea. And as I would start answering, he'd really listen. I think this is how he'd stay young at heart – he'd constantly learn from others by engaging them in these kinds of conversations. And another thing: he had a way, I think, of showing people that he respected them – not through flattery or compliments, but on a fundamental way. When I was hired into the department of English, he was the most senior member and I was the most junior, and I felt that respect from day one. Now that I pause to think about it, I suspect that it must have reflected a deeply held belief, some personal philosophy – that knowledge is non-hierarchical, or that to be a teacher one has to always be a learner, or – I don't know. But that was a very cool quality. I will miss him very much."
Senior Associate Provost for Curricular Initiatives and Assessment Jamie MaKinster: "I've been here for more than 20 years, but only got to really interact with Grant over the past year or two, mostly in my new position. What was clear to me during this time, was how invested Grant was in his students and his teaching. He had what I saw as a larger than life personality, which I can only imagine translated into some really wonderful classroom experiences. He designed courses about which he was passionate and that helped students to develop their own interest and passion in the art of film, filmmaking, and production. As someone who had been here for quite some time, he was a model for thinking about how to pursue teaching and a career with an endless passion to both do good and do well. I will miss his energy and all that he did for our community."
Professor Emeritus of Economics Pat McGuire L.H.D.'12: "Grant arrived on campus one year after I arrived in the fall, 1970. … From the beginning he was engaged and simply loved his "job." He loved his teaching and working with his students. He was deeply involved in curricular and student issues during the tumultuous 1970s where our students were especially committed to change in the curriculum amid the very active anti-war activity on our campus. Grant was a "go to guy" for students regardless of major or issue; they trusted him and accepted his advice and consul even if they disagreed with his view. Grant always seemed to be in a good mood regardless of the day or the issue. He once famously (at least for me) referred to me affectionately (I assumed) as "Jock Boy" as we prepared for a basketball game in the student league. It was a big game… faculty vs students…we actually did these sorts of activities back then. I did not particularly like the nickname but unfortunately it stuck and recently I heard "hi jock boy" and a wave from across the campus and yes it was Grant! … So it will be difficult to see our community without him, his energy, his teaching and his friendship. You will be missed, my friend and colleague. God Bless."
Associate Professor of English Nicola Minott-Ahl: "In my experience, Grant Holly was a whirlwind inside a well-dressed stillness; one moment, exhibiting a wit that would make Alexander Pope jealous and the next, impulsively throwing himself into a swimming pool wearing a borrowed swimsuit that was much too large. Grant was a supportive colleague and genuinely enjoyed being on search and review committees. His keen intelligence and far-reaching curiosity made him a fascinating interlocutor. He was maddening because he had a sense of time that was unique to himself but he was so alive with ideas, good humour, and enthusiasm that his passing is simply impossible to fathom and his absence is so very deeply felt. I will miss our spontaneous chats; his office door was always open and I seldom could resist the impulse to pop in."

Retired Director of Admissions and Assistant Vice President of Institutional Advancement Mara O'Laughlin '66, L.H.D.'13: "I have so many memories of Grant…the good times and the unbearably sad times. But one memory has sustained me through some of my most challenging times. When I was Director of Admissions, Grant frequently accompanied me to large group presentations. No one held the audience in the palm of his or her hand better than Grant. One time, in Boston, we were about to present in a ballroom filled with high school students and their parents. I got the hiccups just before we had to go out. Bad case. Grant dashed off and came back with a wedge of lemon and a small bowl of granulated sugar. He instructed me to completely cover the lemon with the sugar and suck it without coming up for air. I did. The hiccups were immediately gone. I have shared this trick with countless others. And now with you. Thank you, Grant."
Associate Professor of Media and Society Leah Shafer: "I was first introduced to the sparkling charm of Grant Holly when I interviewed at HWS. Grant was one of the folks at the interview lunch in the Common Room. I was quite nervous as I sat there surrounded by faculty and surveyed them all for a sense of how to act. Grant was relaxed and voluble, making witty wisecracks and engaging in genuine conversation with everyone. I remember consciously modeling my posture on his and working to imitate the way he dove fearlessly into each new thread of conversation. When I figured out how to be relaxed, confident, clever, and interesting in my own way everyone at the table visibly relaxed and the conversation flowed. I suspect that lunch is where I got the job. Grant was the kind of person who was always ready to talk ideas. I especially treasure the times I sat in his office, light streaming through the windows on the piles of books everywhere, holding long conversations that ranged from Elizabethan prosody to Hollywood gossip. Grant delighted in seizing ideas and running with them. His long tenure at the Colleges and his restless intellectual curiosity allowed him to spend a half a century generating and engaging with the delightful and the fascinating. I can hardly think of a better way to have lived a life."
Professor Emeritus of Sociology James Spates: "Many, many years ago, as such things are reckoned, my wife Tracy and I came to interview at HWS. It was the spring of 1971, and I had just finished my Ph.D. dissertation and gotten my degree. As it happened, we were here on a weekend and there was, on Friday evening, a faculty soirée at Durfee House. Lots of folks were there, but, among them, were Grant and Michael Holly, themselves still fairly new to the faculty world at the Colleges. We got to talking and Grant and Michael's enthusiasm for the place was palpable. They encouraged us to come if I got an offer. I did, and we did, and we were never disappointed by our choice. I always remember that moment as "quintessential Grant"! – Full of life and enthusiasm—as the Colleges themselves have proved themselves to be over these last five and more decades! He will be mightily missed!"
Professor of Economics William Waller P'99, P'04, P'09, P'13: "I served with Grant Holly on COFAC while he was chair, he was a tireless and ferocious advocate for academic freedom, faculty governance, and pay equity. His efforts and organization of the committee and the entire faculty led to the faculty and board achieving the board's salary goal for the faculty for the first time."
Following the Spiritual Service of Thanksgiving on Nov. 18, a reception will be held and include the opportunity to share your condolences with Professor Holly's family. Those wishing to send remembrances to the family can direct them to Assistant to the Provost Kenda Furgeson at furgeson@hws.edu