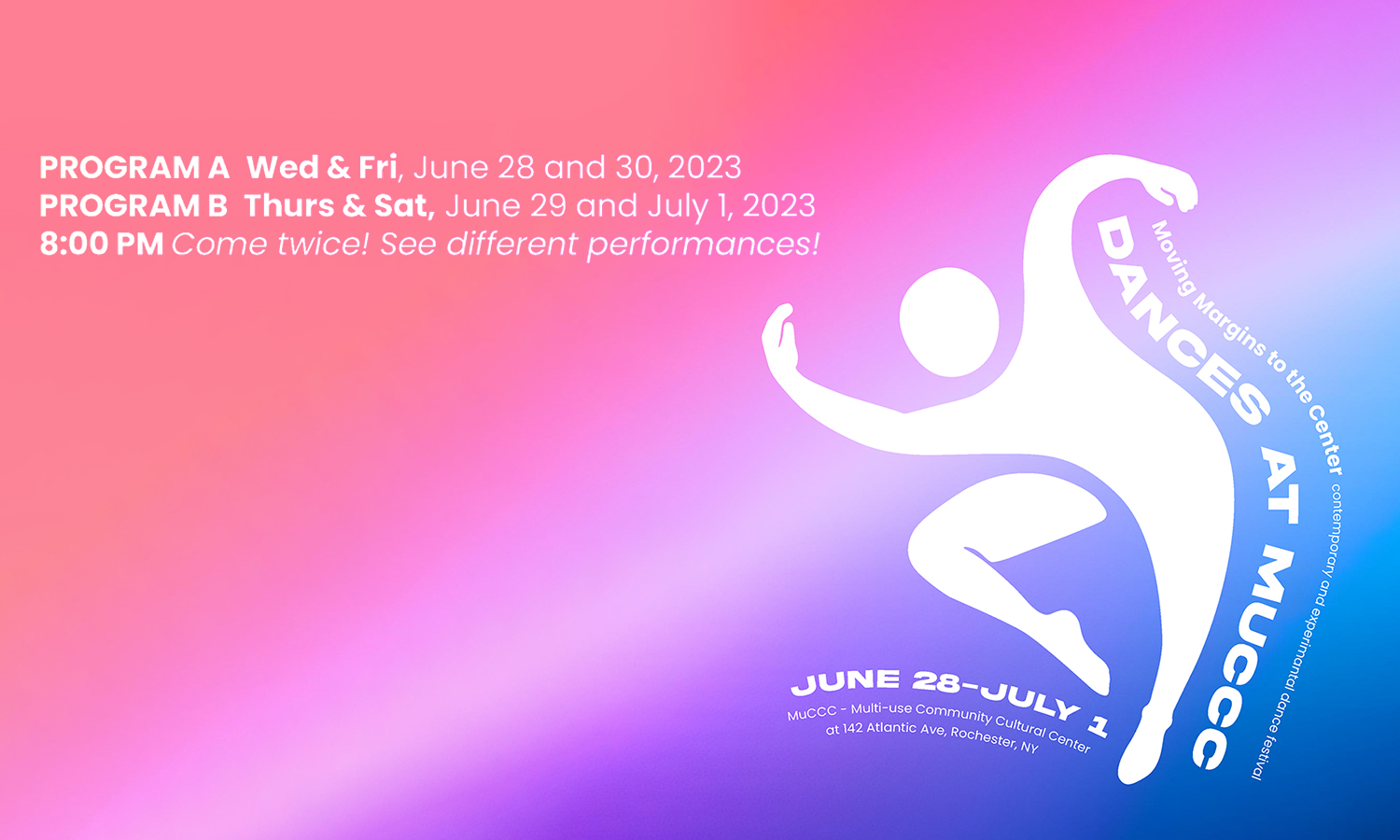 HWS News
15 June 2023 • Alums HWS Featured in Creative Dance Performances at MuCCC in Rochester
From June 28 - July 1, Professor of Dance Donna Davenport will produce Dances at MuCCC with Rochester-based freelance dancer and choreographer Nanako Horikawa Mandrino at 8 p.m. at the Multi-use Community Cultural Center (MuCCC) in Rochester, N.Y.
Rochester's longest running contemporary dance festival, Dances at MuCCC highlights experimentation, collaboration and creative expression through movement and this year features several Hobart and William Smith faculty, alums and students. The dance festival, produced by Professor of Dance Donna Davenport and Rochester-based freelance dancer and choreographer Nanako Horikawa Mandrino, comprises four evenings and two programs of diverse choreographers and collaborators, celebrating both emerging artists and seasoned choreographers, and both live and recorded music.
In addition to 18 other choreographers, the festival includes choreography by recent alum Hannah Bixby '23 and Associate Professor of Dance Michelle Iklé.
"Wait," a psychologically rich quartet composed by Bixby and dancers for her senior choreography project, will feature alums Bliss Doney '22, Irini Konstantinou '23 and Bixby as well as current students Erin Kerwin '25 and Ellie Pedone '25. Also, in Program B on Thursday, June 29 and Saturday, July 1 at 8 p.m., Iklé will present "In Proximity" with Bixby, Doney, Katie Pratt '23 and James Truley '20, which will be performed to original music by student composer Ivan Malcolm '24.
Program B on Thursday and Saturday evenings will also feature a favorite Rochester performing artist and alum Katherine Marino '12, who will present a powerful solo in the program.
Tickets are available in advance at www.muccc.org or at the door on 142 Atlantic Avenue in Rochester, NY. Online tickets are: General admission $12, students and seniors (65+) $10 and children under 10 are free. At the door, General Admission is $15, students and seniors (65+) $10 and children under 10 are free.
Program A (Wednesday and Friday) features choreography by: Julie Chen, Angela Lopez (an0th3rl0p3z), Erika Dooley & Marissa Engel, Laurie MacFarlane, Anne Harris Wilcox, Katherine Serna, Laura D'Amico, Ruben Ornelas, Caitlin Mahon and Amya Brice.
Program B (Thursday and Saturday) features short samples of choreography by: Michelle Iklé, Sarah Andreacchi, Rebecca Pickering, Renée Sobers, Natalie Marino, Ethan Beckwith-Cohen, Joshua Lang, Geo Koryu & Laura D'Amico, Katherine Marino, Briana Kelly and Hannah Bixby.
"We hope to see you there!" says Davenport, who notes funding for dance has decreased significantly. She encourages those who'd like to support the artists or the theater and cannot attend the concert to please donate to Dances at MuCCC online by scrolling down to the end in "Details and Tickets" at www.muccc.org
Poster design and logo by Jimmy Scamacca.