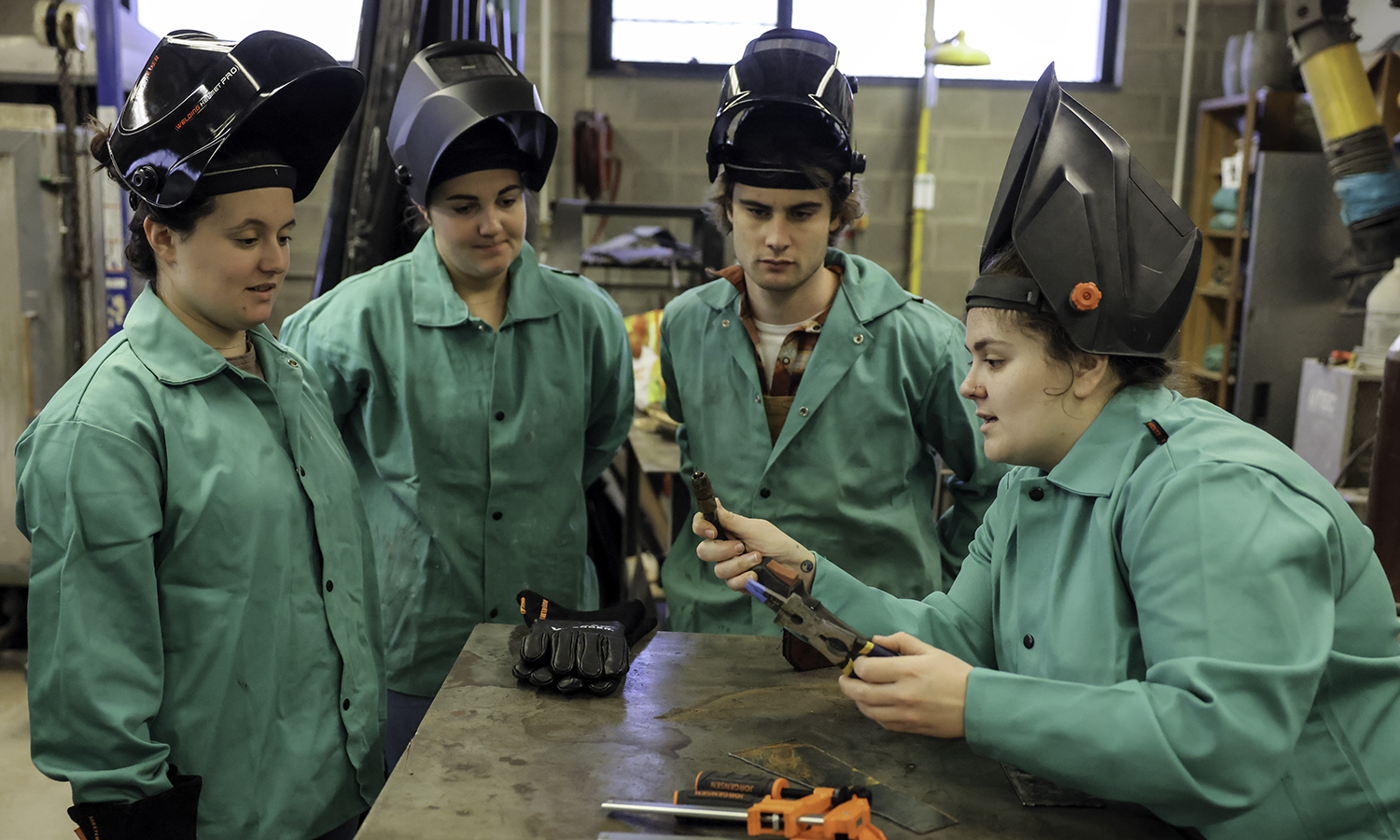 HWS News
14 March 2023 • Alums The Art of Talking about Mental Health By Andrew Wickenden '09
Alums team up for an art show fundraiser to encourage open conversation around mental health.
Brittany Coburn '17 has used her art to explore, describe and destigmatize mental health since her senior year at HWS, when a silkscreen project in Professor Phillia Yi's class helped Coburn navigate "an emotionally confusing and painful place" as she saw dear friends struggle with addiction and depression. Though she's primarily a sculptor now, the silkscreen project set the course of Coburn's work in the years since. Thinking back on the project, she says: "You don't expect something you make when you're 20 to be the foundation for your whole future."
Coburn's pursuit of her artistic vision and craft led her to the Savannah College of Art and Design in Atlanta, Ga. As she worked toward her M.F.A. in sculpture, the pandemic accelerated; within weeks, a close friend died, and Coburn and her friends were unable to "get together to mourn his loss, celebrate his life and give each other the love and support you need when you lose somebody you love."
Although shaped under the cloud of loss and isolation, the art Coburn was making during that time propelled her out into the world; it would, in turn, form the first series of her thesis project.
With so many faces covered by masks, Coburn became fixated on the mouth and what it can mean in the context of mental health, both "as a portal for vices or a tool for salvation." The mouth, she notes, is both an avenue for self-medication but also "a tool for asking for help.… All it takes to get help and to start healing is to find that confidence in yourself to ask, and to talk about the experiences that you're going through."
Spotlighting mental health — and normalizing conversations about it — is the driving mission behind Bring Change to Mind, the nonprofit directed by Pamela Harrington '89. "Stigma is a learned behavior," as Harrington told the Pulteney Street Survey. "We mimic the attitudes and language of our elders and pass our beliefs on to the next generation."
Coburn had long been familiar with Bring Change to Mind — Harrington is a classmate and friend of Coburn's parents, Laura Graff Coburn '89, P'17 and Sam Coburn '90, P'17 — and as her work began to take shape, she wanted to leverage her M.F.A. thesis to amplify conversations about mental health while contributing directly to programs that support them.
Connecting with Harrington and more than 20 local artists, Coburn organized a show, "Hard to Swallow," that exhibited the sculptures, paintings and multimedia work from her thesis project, as well as other pieces that reflect the challenges of managing and talking about mental health. Doubling as a fundraiser, the show saw nearly every piece sold and generated $3,500 in support of Bring Change to Mind.
Like Bring Change to Mind's programs, Coburn's work engages its audience in what's said and unsaid in the social dialogue around mental health. Integrating a variety of mediums and materials, her work juxtaposes bright colors and pop sensibilities with subject matter that can be unsettling or socially taboo. "Hard to Swallow" included installations such as a quilt made of notecards that display reflections on mental health and another representing each American who died by suicide in 2020.
Because the style is "happy and bright," she explains, "it puts this really heavy, dark, difficult-to-talk-about conversation out into the world in a much more inviting way, so that it's less intimidating for people to engage with and interact with."
In her use of mixed media and her attention to challenging social issues, Coburn's work continues to draw on the skills and outlook she cultivated at HWS, where she's now filling in on the Art Department faculty while her former advisor, Professor Ted Aub, is on sabbatical. "I learned how to teach art and how to share my passion and love for what I do from him," she says, "so to now be able to fill his shoes in the same studio that he taught me how to do all of this, is a really cool, exciting experience."
In the photo above, Adjunct Instructor of Art and Architecture Brittany Coburn '17 leads students in "Metal Sculpture" welding class in Houghton House.