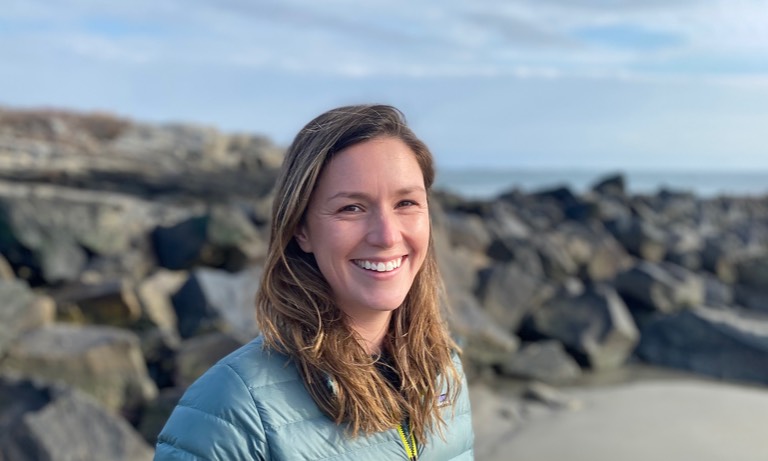 HWS News
2 February 2023 • Alums Dorman '14 to Address Newest Laurel Society Inductees By Finley Hetherington Aherne
A graduate of Harvard Law and former Peace Corps Volunteer, Anna Dorman '14 will deliver this year's Celebrating Excellence speech.
Anna Dorman '14, who serves as the regional voter protection director for the New Hampshire Democratic Party, will deliver the keynote address during the annual William Smith Celebrating Excellence dinner and induction of the newest William Smith Laurel Society members.
The dinner and induction will take place at 6 p.m. on Thursday, Feb. 16 in the Vandervort Room of the Scandling Campus Center.
While studying at Harvard Law School, Dorman focused on voting rights and democracy, including work on a brief cited by Justice Elena Kagan in Rucho v. Common Cause which held that the federal courts cannot address issues of political gerrymandering. As a law student, she also worked on the Biden Campaign in Florida as part of the voter protection team and was part of the small team brought in to manage the Georgia recount.
After graduating from law school, Dorman served as the Alan Morrison Supreme Court Assistance Program Fellow at Public Citizen Litigation Group where she assisted public interest litigants challenging certiorari at the Supreme Court and coordinated moots for more than 45 percent of the cases heard before the Court.
During her time at the Colleges, Dorman worked as a tutor and as a research assistant in the Environmental Studies Department, served as an intern in the Office of Sustainability and as a writer in the Office of Communications.
After HWS, she served as an AmeriCorps VISTA in Hawaii, before serving as a Peace Corps education volunteer in the Western Province of Rwanda, specializing in teaching English.
The Celebrating Excellence dinner is an annual event that recognizes William Smith students for their outstanding academic achievements and inducts the next class of students into the Laurel Honor Society. The society is comprised of students committed to leadership and mentorship through active participation in all areas of the HWS community.
This year's inductees include: Zoe Aracena '25, Isabella Babikian '24, Rebecca Barr '25, Marlayma DiFante '24, Djeneba Diop '25, Kennedy Jones '24, Heather Kerns '24, Cailin Kessman '24, Kayla Ketchabaw '25, Marissa Mastracco '25, Madeleine Meyer '24, Katelyn Oswalt '24, Annabel Ramsay '25, Genesis Rosario '24, Kimberly Saavedra-Mendez '25, Annette Stephens '24, Rodman Stout '24, Laurens Van Alen '24, Emma VanGorder '24, Autumn Washington '24, Ella Weiss '24 and Britta Wilkerson '24.