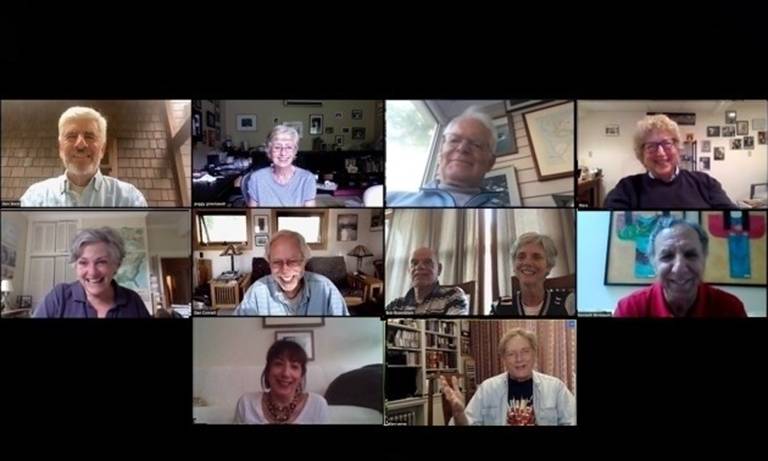 HWS News
HWS alum Zoom groups that started in 2020 continue to connect friends across the country and around the world.
In 2020, Hart Seely '74 recalls, "everybody was rattled, holed-up, nobody going outside. For all our longevity, we had never experienced anything like it."
In the midst of lockdown, Seely and his old Hobart roommate, the late John Palkovic '74, started a regular Wednesday night video call with HWS classmates and friends. They called it "the Midweek Festival of Life," which Seely says was "what we used to call Wednesday night trips to a bar in the Village of Lyons. It was called Tom Jones. For $2, all the beer and pizza you could inhale."
Like many other such alum video calls, this gathering of 1970s-era HWS alums is still going strong. "On a given night, six to 10 guys will pop in and out. Sometimes it lasts an hour. Sometimes, deep into the night," Seely says.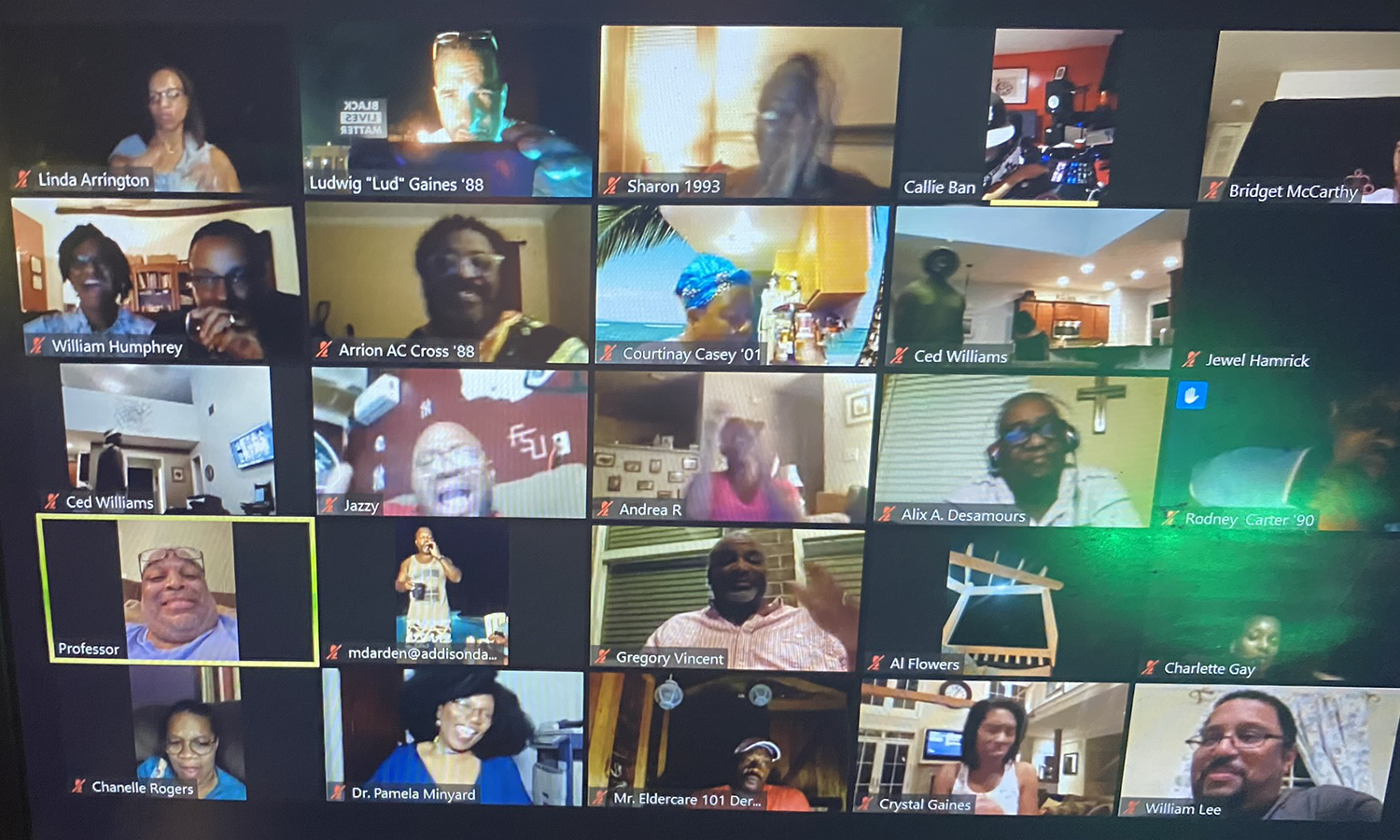 The pandemic put the value of friendship into sharp relief for many — and for many HWS alums, helped bring them closer than ever, both to one another and to the Colleges.
"We feel fulfilled by the conversations. We're able to contribute to the Colleges and get involved from our various locations," says Tom Hadlock '64, a past president of the Hobart Alumni Association, who has quarterbacked the Hobart Class of 1964 Zoom group since 2020.
Every other Tuesday at 5 p.m., he and 1964 classmates log on to the video call. "And if you change the schedule," Hadlock notes, "the guys get mad — they plan their schedule around the call."
Though they reminisce about their days on campus, the alums are eager to engage in the future, especially the Colleges' future. They have invited special guests to discuss new HWS developments, including President Mark. D Gearan, Super Bowl Champion Ali Marpet '15, Vice President for Advancement Bob O'Connor P'22, P'23, former Board Chair Tom Bozzuto '68, L.H.D. '18 and former Director of Admissions Mara O'Laughlin '66, L.H.D. '13.
"We talk about what we're doing, the state of the world, the state of the Colleges, trends in higher education. The school bonds us, and we go from there," Hadlock says.
Trustee Ludwig Gaines '88, the immediate past president of the Hobart Alumni Association, notes that since 2020, the regular video calls hosted by the Afro-Latino Alumni and Alumnae Association (ALAA) have also "provided an incredible opportunity to reconnect with past classmates and other alums."
The weekly calls have brought together as many as 40 alums, offering opportunities for "sharing stories, reminiscing about our college days, updating each other on our families and lives and sharing some tears and lots of laughter. I can say personally our Zoom get togethers helped me get through the pandemic," Gaines says.
With pandemic measures abating, the virtual connections have spurred in-person get-togethers: more than 50 alums from the regular ALAA meetings gathered in Virginia last summer — and another summer reunion is in the offing.
Zoom has made catching up easier for alums who don't regularly have the chance to see one another, which was more than welcome. "We all felt the need to have some regular ongoing human contact during the crisis," says Ken Birnbaum '65, a regular participant in a meeting of 1960s graduates. The video calls "enabled us to enjoy each other's company more frequently. I would say that this is perhaps the most enjoyable aspect."
Peggy Bokan Greenawalt '66, L.H.D. '21, who organized the Zoom with fellow '60s-era alums, says it's been "great sharing experiences to keep a sense of life continuing. Don and Ken were able to share legal and political insights on the national issues. Edie and I shared our involvement in our state political situations. Allen provided a knowledgeable medical perspective with the addition of his weekly joke. Sharon was at ground zero in NYC and was the expert eyewitness. Dan's expertise on Ethiopia gave us a sobering prospective on our fortunate luck to be living in such a relatively stable democracy. Mara kept us connected to HWS and Geneva and the best streaming shows. Laraine and Bob amazed us with their tale of being on the last plane out of New Zealand. We always had something to discuss and laugh about."
Enthusiasm for the video calls remains high, as they help keep conversations flowing and friendships growing between in-person reunions.
"Before the Zooms, I spoke to many of these guys maybe once a year, and — sadly — often because something awful happened.… Now, it's almost every week," Seely says. "We're not getting younger, and we've lost incredible friends in recent times, some of the greatest people I'll ever know.… We have many reasons to go on, but you get one shot at life, and when you reach the final chapters, it's best to have close friends. These calls help. They're a highlight of my week."
Hadlock notes that many of the '64 Zoom participants reconnected — and in some cases, met for the first time — at their 50th Reunion in 2014. The Zoom calls, he says, "make us wish we knew each other as undergraduates."
"It's a closeness we never had before," he says. "We have a bond that will last through the rest of our lives."
The image at top: Like other groups of alums, classmates from the mid-'60s who reconnected during the pandemic stay in touch on Zoom.