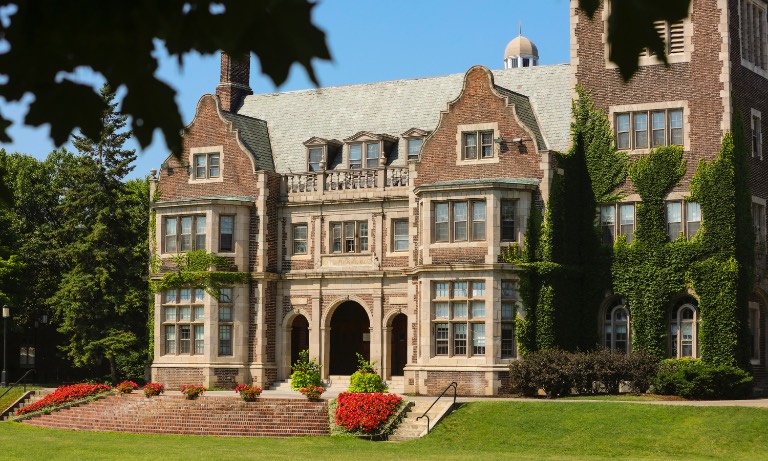 HWS News
20 June 2023 • Alums Lyon Doubles Down on Scholarship Support
A new gift from Dr. David Lyon '67 adds $375,000 to endowed scholarship funding for pre-med students, bringing his total bequest to more than $1 million.
"Throughout my treasured career in academic medicine and clinical practice, I have been mindful of the opportunities that my education provided — opportunities that would not have existed without the financial support made available to me by others. This debt of gratitude will be with me always," says Dr. David Lyon '67, who practiced and taught gastroenterology and internal medicine for 40 years.
In 2015, Dr. Lyon established the Dr. David T. Lyon Endowed Scholarship fund with a planned bequest of $750,000. He is now adding a $250,000 gift to that fund, which will be matched with $125,000 through the Anderton Impact Challenge for Scholarship and Financial Aid, bringing the total expected bequest to $1,125,000.
This latest gift extends additional support to students with financial needs who intend to enroll in medical school after graduation, particularly students who display exemplary integrity, outstanding scholastic performance, special prior charitable volunteerism and community service, and a demonstrable commitment to ethics and social justice.
Dr. Lyon says that HWS paved the way for his career and wants the same opportunities to be available for future generations.
"I believe that higher education should be accessible to anyone with the interest and ability to pursue it," he says. "But increasingly, even public schools are beyond the reach of many highly qualified young people. My own family was solidly 'blue collar' and for me, even at age 15, the affordability of college was at best uncertain."
"The support of my family, however, along with part-time work, student loans and generous scholarship aid, allowed me to begin my baccalaureate studies at Hobart College," he adds.
Dr. Lyon graduated from Hobart with a B.S. in biology and earned his M.D. from SUNY Upstate Medical University, as well as a master's degree in public health at Columbia University. Among other roles, he served as a clinical professor of medicine at Drexel University College of Medicine and as a professor of clinical medicine at Albany Medical School throughout his long, successful career.
"We are incredibly grateful for Dr. Lyon's generous support, which will have profound impacts on the lives of our pre-med students and future doctors. One of our key strategic priorities is making sure a Hobart and William Smith education is accessible and affordable, and Dr. Lyon's gifts represent a strong vote of confidence in the Colleges and our aspirations," says Vice President for Advancement Bob O'Connor P'22, P'23.
Beyond setting him on the road to a profession in medicine, Dr. Lyon says, his time at HWS influenced him in other significant ways. "My matriculation at HWS allowed me to mature as a young man, to respect patience and perseverance, to facilitate, appreciate and understand life's challenges, and to honor commitment and gratitude," he says.
To reach its $3 million goal, the Anderton Challenge offers a 50 percent match to alums and friends 60 years and older who join the Wheeler Society with a planned gift of $100,000 or more. Learn more about the Challenge.