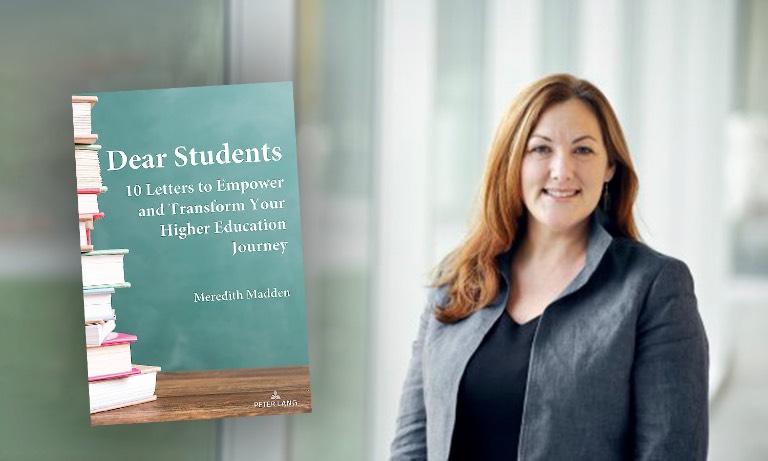 HWS News
26 June 2023 • Alums Madden '99 Offers Advice on College in New Book By Katelyn Oswalt '24
Meredith Madden '99 offers advice for college students in her new book, Dear Students: 10 Letters to Empower and Transform Your Higher Education Journey
In her recent book, Dear Students: 10 Letters to Empower and Transform Your Higher Education Journey, Meredith Madden '99 offers a guide to college students on how to "authentically and intentionally 'do school.'"
The book, recently published by Peter Lang, uses narratives to explore various topics and give advice relating to the student experience in higher education. These include building relationships with faculty, deep listening, developing a voice in the classroom, and finding and cultivating community.
"I miss William Smith dearly, and many of the lessons in my book are inspired by the thoughtful mentorship of my professors, especially the Sociology Department," shares Madden, who majored in sociology and minored in Russian area studies during her time at the Colleges. She also studied abroad in Galway, Ireland.
Madden will return to campus this fall as a guest speaker in "Problems of Practice," part of the Colleges' Master of Arts in Higher Education Leadership program.
This is the fourth book authored by Madden. Previous publications include The Impression of Jack Sullivan, When Lucy Washed Ashore, and Rise for Racial Justice: How To Talk About Race With Schools and Communities, co-authored alongside Colette N. Cann and Kimberly Williams Brown.
An Assistant Professor of Education at Utica University, Madden holds a Ph.D. in cultural foundations of education from Syracuse University, a master's of public policy from George Washington University, and a master's of science in Urban Education from Mercy College. Madden also founded and manages an educational diversity, equity, inclusion and justice business The Equity Prof LLC. For more information, visit equityprof.com.