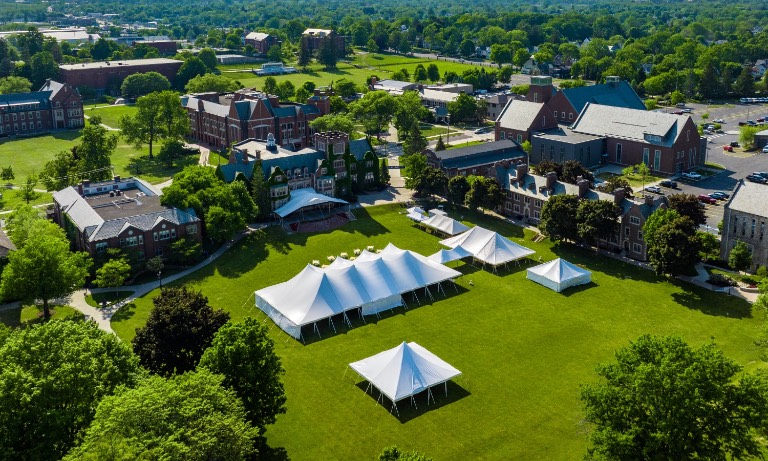 HWS News
2 June 2023 • Alums Reunion Celebrates 3's and 8's
Hobart and William Smith Colleges are celebrating class years ending with 3's and 8's this weekend, June 2-4.
This weekend, the Colleges are welcoming back alums from the Classes of 1958, 1963, 1968, 1973, 1978, 1983, 1988, 1993, 1998, 2003, 2008, 2013 and 2018, as well as some alums from class years in between.
The weekend kicks off on Thursday with gatherings to reconnect old friends and fellow alums. Friday's schedule includes: a golf tournament; a trip on the William Scandling research vessel with Professor of Geoscience John Halfman and Finger Lakes Institute Director Lisa Cleckner; a bird walk with Professor of Biology Mark Deutschlander; the presentation of the Distinguished Faculty Award; and a panel on Tommy the Traveler led by retired Geneva Police Officer Thomas DeVaney, retired judge The Honorable Walter C. Gage '62 and Assistant Professor of Media and Society Jiangtao "Harry" Gu '13.
An art gallery exhibit celebrating the work of Hobart and William Smith Chief Photographer Kevin Colton L.H.D.'23 will also be on display throughout the weekend at the Davis Art Gallery. Colton will lead a class on photography on Friday.
Associate Professor of Physics Leslie Hebb will offer tours of the Richard S. Perkins Observatory as well.
Saturday will feature sunrise yoga, a cycling tour of the Finger Lakes, the State of the Colleges Address by President Mark D. Gearan, the annual parade of alums, and conclude with a Quad party.
Classes will also be held throughout the weekend, allowing alums to explore topics in architecture and history with Associate Professor of Art and Architecture and Chair of European Studies Michael Tinkler, and a stretch and breathing session with Professor of Dance Donna Davenport .
Sunday will close out the weekend with a worship service in St. John's Chapel and a farewell brunch.
For a full schedule and more information on Reunion 2023, click here.