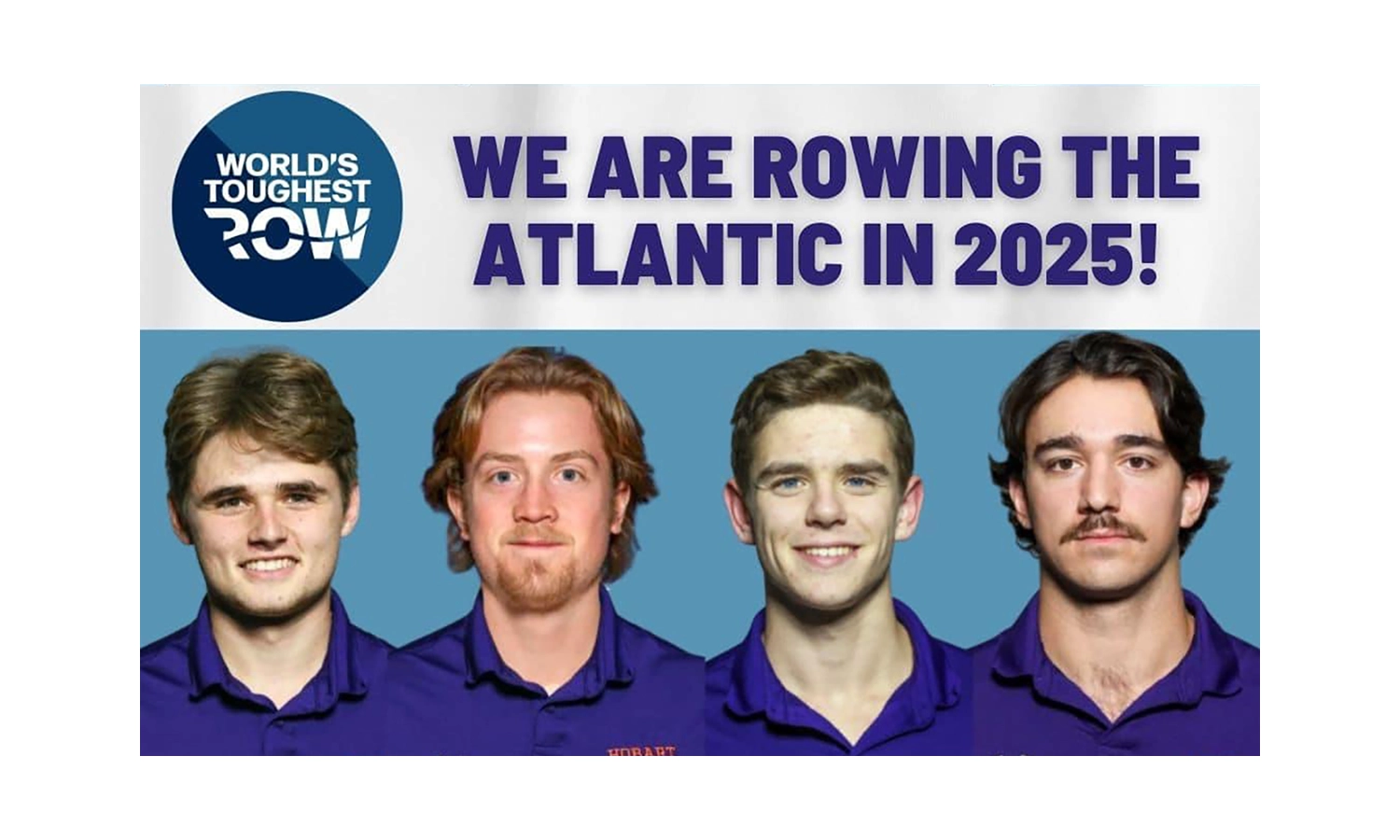 HWS News
14 November 2023 • Service Rowing across the Atlantic
Four Hobart rowers will cross the Atlantic Ocean in "the World's Toughest Row" to raise $550K for Boys and Girls Club chapters in their hometowns and Geneva.
In 2025, Anthony Carella '22, Moritz Marchart '22, Ryan Mulflur '24 and David Ranney '21 will embark on a grueling 3,000-mile journey across the Atlantic as part of the World's Toughest Row, one of the most challenging rowing races on the planet. In a 25-foot boat on the open ocean, working in two-hour shifts over the course of 30-plus days, the four Statesmen rowers will navigate from La Gomera in the Canary Islands to English Harbour in Antigua.
"Our team first came together on the waters of Seneca Lake as members of Hobart College's rowing program. Always seeking a challenge, we couldn't resist when the four of us discovered the trans-Atlantic rowing race," as Team Seneca Navy explains on their website. "As we trade flat water for the open sea, we are ready to put our oars to work for a worthy cause."
After months of groundwork, Carella, Marchart, Mulflur and Ranney launched their fundraising efforts in September on behalf of the Boys and Girls Club chapters of Geneva, Cleveland, Boston and Toronto. With a goal of $550,000, the team is rowing to give back to the communities that helped foster their leadership, personal growth and character development.
At HWS, the teammates bonded over a shared love of ultra-endurance athletics. They have pushed their physical and mental limits previously with marathons, Ironman events and extended workouts after crew practice; in some sense, they see the 3,000-mile row as the natural next step.
Ranney, who grew up in Cleveland and spent most of his life on the water, says an ocean race had been on his mind since elementary school, when his fifth-grade class was visited by a former student who had just become the youngest person to solo row the Atlantic at 19. The idea stayed with him through college and after graduation, until finally he broached it with his teammates last winter.

Now in Detroit, where he works as a Great Lakes vessel operations specialist, Ranney notes that the race demands a years-long commitment, "but it's not mutually exclusive between pursuing a career and this opportunity. They feed into each other. That's one of the lessons all of us have learned at Hobart — that when you're really invested in one aspect of your life, it tends to symbiotically affect the other important aspects."
"It's definitely a little scary to think about, but that's also why I want to do this," says Marchart, who is training for the German national rowing team while working in the software industry in Hamburg. At HWS, he became more and more interested in ultra-endurance feats, completing 100-kilometer "ultra-marathon" during the summer before his sophomore year. "After 40 or 50 kilometers, I felt I couldn't go on anymore but by keeping going a little longer, I was able to achieve something I didn't think was possible."
Mulflur, who hails from Boston and is completing his final year at HWS, says his first thought about racing across the Atlantic was: "That's crazy." But he couldn't dismiss the race, in part because "my initial reaction was that I couldn't do it.… I've found that the biggest opportunities in my life for growth have been to throw myself into situations where I might be scared."
"We rowed at Hobart and got to see what pushes us, what drives us," Carella says, but the cross-Atlantic race is "one of those challenges where you're asking yourself: how can you really be prepared for that?"
A Toronto native, now completing a post-graduate diploma in ecology at the University of Victoria, he says that beyond endurance and navigation training and the requisite hours in the boat, one key will be the mental toughness and team dynamics. "Just like you have to understand the boat, you have to understand your teammates when you're out there and that comes from preparing together," he says.
Over the course of the next two years, alongside their individual and group training the teammates will recruit corporate sponsors and raise funds to purchase a boat, supplies and safety equipment before they begin the race in December 2025.​
"We're essentially launching a firm," Ranney says. "It's marketing, finance and operations. We don't all have a ton of experience with those things," but the shared learning experience is part of "why it's been enjoyable."
As Mulflur says, "There was instantaneous camaraderie between all of us. We had a great experience at Hobart that allowed us to build leadership skills and pursue transformational opportunities." He says that in giving back to their hometowns and Geneva, the team hopes to enable those communities, "and hopefully inspire them to do things like this — powerful experiences that positively impact people's lives."
Click here to learn more about the World's Toughest Row and support the team.