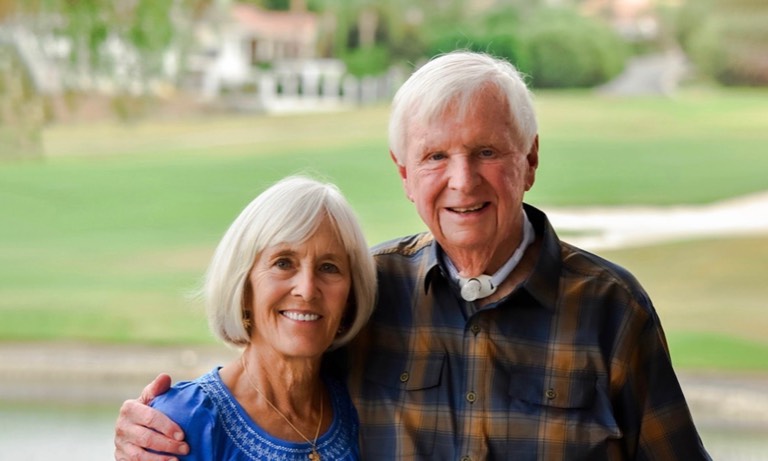 HWS News
16 March 2023 • Alums Waters '59 Creates Political Science Scholarship to Honor President Mark D. Gearan By Colin Spencer '19
Funding will support students planning to major or minor in program.
Grateful for the scholarship funding he received as a student, Joseph Waters '59 has committed $150,000 over five years in the form of the President Mark D. Gearan Annual Scholarship. The scholarship is presented by Waters and his wife, Leslie.
The scholarship will be awarded in the amount of $30,000 annually to a student interested in pursuing a major or minor in political science.
"I would not be here if it hadn't been for the education I got at Hobart," says Waters, who was a member of Hobart's ROTC program before joining the U.S. Air Force after graduation and then working for more than 20 years for AT&T. He later was in the corporate travel industry. "Hobart prepared me to handle business and other situations effectively."
Waters named the scholarship after Gearan to commemorate his return to HWS. Gearan served as president of Hobart and William Smith from 1999-2017 before returning in July of 2022.
"I am honored and extremely grateful for the Waters' gift to the Colleges and their thoughtfulness in the naming of the scholarship," says Gearan. "One of the wonderful benefits of returning to HWS is being able to reconnect with so many alums and friends of HWS, people like Joe and Leslie who care deeply and who are invested in the Colleges' future. Our students will be greatly advantaged by their generosity and we are so grateful for their support."
Waters says he appreciates Gearan's hands-on and personal approach. "I was so grateful that Mark Gearan came back," Waters says. "He was a fantastic leader when he was first here and a guy I have personal admiration for."
Waters created a scholarship based on his experience receiving help during his time at Hobart. As a student, Waters worked as a head proctor of Medbery Hall and in Saga dining hall. Receiving financial support helped him attend HWS when he says he wouldn't have been able to otherwise.
As a student, Waters majored in political science. He was a member of the Sigma Chi fraternity and wrote for The Herald. He also served as class president and was named to the Orange Key, Chimera and Druid honor societies.
In 2021, Waters created the Leslie T. and Joseph D. Waters '59 Annual Conservative Scholarship to support students of any political affiliation who are majoring or minoring in political science. Pleased with the recipient chosen for the first scholarship, Nolan Firth '25, Waters wanted to continue contributing to the Colleges in the form of another scholarship.
Waters has a long history of contributing to the Colleges including regular support of the the Annual Fund and the Gearan Center for the Performing Arts. He is also a member of the Wheeler Society, which recognizes those who have made a planned gift.