The Office of Campus Safety is staffed by an associate vice president, one associate director, one operations sergeant-investigator, four patrol sergeants, a communications specialist and 11 patrol officers. Each shift is supervised by a patrol sergeant and provides continuous patrols by uniformed officers for the entire campus. Campus Safety complies with the registration and training requirements of the New York State Security Guard Act. All officers are certified by the American Heart Association in Basic Life Support and Heartsaver First Aid.
Message from Associate Vice President Martin Corbett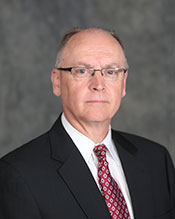 Welcome to Hobart and William Smith Colleges, a truly unique and extraordinary student-centered environment where our students prepare to lead lives of consequence.
At HWS, safety is our top priority and we believe that it is a shared responsibility. Our campus safety team is committed to working collaboratively with members of the Hobart and William Smith community to provide a safe and secure living and educational environment that nurtures the academic and social growth of our students. This collaboration begins with students, faculty and staff understanding and practicing basic safety and security measures and reporting illegal activity or suspicious circumstances immediately to the Office of Campus Safety.
Our annual security report available on our website, which is made available to all students, faculty and staff, is an excellent source of information about our safety and security services, prevention programing and other resources that we offer to the campus community. We encourage you to read this information and become an active partner in contributing to the safety and security of our campus.
Please stop by the Office of Campus Safety, located in the facilities building in Medbery parking lot, or contact me directly at Corbett@hws.edu if you have any questions about campus safety services or have any safety and security concerns.
CAMPUS SAFETY OFFICERS
| | |
| --- | --- |
| Chris Beattie, Associate Director of Campus Safety Administration | Gerry Glasso, Operations Sergeant-Investigator |
| Sgt. Billy McGowan | Sgt. Philip Biehls |
| Richard Schoonerman, Campus Safety Officer II | Bradley Howard, Campus Safety Officer II/ Communications Specialist |
| I'mani Bryan, Campus Safety Officer I | John Cunningham, Campus Safety Officer I |
| Shawn Hanley, Campus Safety Officer I | Cody Jones, Campus Safety Officer I |
| Gloria Rodriguez-Merced, Campus Safety Officer I | Mario Smith Jr., Campus Safety Officer I |