Past Writers in Residency
2022-2023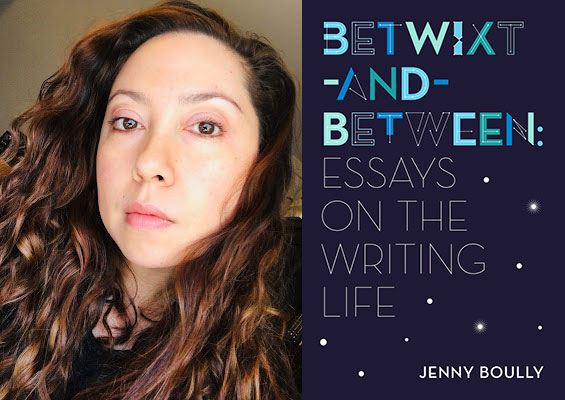 Jenny Boully, a 2020 Guggenheim Fellow in General Nonfiction, was the Trias Writer-in-Residence for 2022-2023.
She is the author of Betwixt-and-Between: Essays on the Writing Life, which the Georgia Review calls "a supple and suggestive volume, one dedicated to multiplying literary possibilities even as it names and forcefully critiques the economic and institutional forces that construct and constrain such possibility."
Her first book The Body: An Essay, published when she was 25, is regarded as a canonical text in experimental essays, poetic prose, and imaginative form. Her other books include not merely because of the unknown that was stalking toward them, The Book of Beginnings and Endings: Essays, [one love affair]*, and of the mismatched teacups, of the single-serving spoon: a book of failures.
A ลูกครึ่ง (half-child), she was born in Thailand and grew up on the southwest side of San Antonio, Texas. She attended Hollins University, where she double majored in English and Philosophy and then went on to earn an MA in English Criticism and Writing. Her other degrees include an MFA in Creative Writing from the University of Notre Dame and a Ph.D. in English from the Graduate Center of the City University of New York.
She teaches at Bennington College and the Bennington Writing Seminars.
2021-2022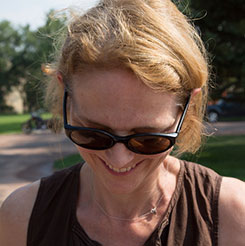 Renowned poet Elizabeth Willis was the 2021-2022 Trias Writer in Residence. Willis's most recent book Alive: New and Selected Poems(New York Review Books, 2015) was a finalist for the Pulitzer Prize. Her other books of poetry include Address (Wesleyan, 2011), recipient of the PEN New England / L. L. Winship Prize for Poetry; Meteoric Flowers (Wesleyan, 2006); Turneresque (Burning Deck, 2003); The Human Abstract (Penguin, 1995), a National Poetry Series selection; and Second Law (Avenue B, 1993).
Her poems can be found in issues of Bennington Review, Hambone, Harper's, The New Yorker, Poetry, and A Public Space. Willis has also edited a volume of essays titled Radical Vernacular: Lorine Niedecker and the Poetics of Place (Iowa, 2008). In 2012, she received a Guggenheim fellowship for poetry. Willis has held residencies at Brown University, the MacDowell Colony, the Ucross Foundation, the Centre International de Poésie, Marseille, the READ seminar, and the Lannan Foundation. From 1998-2002 she was Distinguished Writer-in-Residence at Mills College. From 2002-2015 she served as Shapiro-Silverberg Professor of Creative Writing at Wesleyan University.
Since 2015, she has been on the permanent faculty at the Iowa Writers' Workshop.
2020-2021
Due to the COVID-19 pandemic, there was not a 2020-2021 Trias Writer in Residence.
2019-2020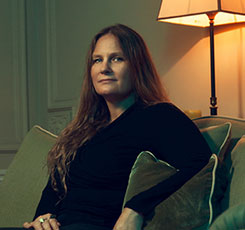 Award-winning American memoirist and fiction writer Lidia Yuknavitch was the 2019-2020 Trias Writer in Residence. Based in Oregon, where she is a teacher, Yuknavitch is the author of the novels Dora: A Headcase, The Small Backs of Children and others. Her widely acclaimed memoir The Chronology of Water was a finalist for a PEN Center USA award for creative nonfiction and winner of a Pacific Northwest Booksellers Award and the Oregon Book Award Reader's Choice. The Small Backs of Children, published in 2015, was called "a brave and affecting novel" by Kirkus Reviews and received the Oregon Book Award's Ken Kesey Award for Fiction.
Yuknavich's latest work, The Book of Joan, is a riveting dystopian epic that features a loose retelling of the Joan of Arc story. Yuknavitch has also published shorter literary works in Guernica, Ms., The Iowa Review and The Sun, among others. The Misfit's Manifesto, published in 2017, is based on a popular TED talk she gave the year before titled "The Beauty of Being a Misfit."
The founder of the workshop series Corporeal Writing in Portland, she teaches in person and online. The series features workshops and classes that focus on exploring the realm of the creative genres.
In her youth, Yuknavitch was a competitive swimmer who had hopes of qualifying for the U.S. Olympics team; the boycott of the 1980 games in Moscow led to the end of her competitive career. She moved to Eugene, Ore., and enrolled at the University of Oregon, from which she received her doctorate in English literature. Her first published work, Caverns, was co-written by Yuknavitch and her colleagues in a novel-writing class taught by Ken Kesey.
2018-2019

Donald Revell is the author of 15 collections of poetry, most recently of The English Boat (2018) and Drought-Adapted Vine (2015), both from Alice James Books. Revell has also published six volumes of translations from the French, including Apollinaire's Alcools, Rimbaud's A Season in Hell, Laforgue's Last Verses, and Verlaine's Songs without Words. His critical writings have been collected as: Essay: A Critical Memoir; The Art of Attention; and Invisible Green: Selected Prose. Winner of the PEN USA Translation Award and two-time winner of the PEN USA Award for Poetry, he has also won the Academy of American Poets' Lenore Marshall Prize and is a former Fellow of the Ingram Merrill and Guggenheim Foundations. Additionally, he has twice been awarded Fellowships from the National Endowment for the Arts. Having previously taught at the Universities of Alabama, Denver, Iowa, Missouri, Tennessee, and Utah, Donald Revell is currently a Professor of English at UNLV and faculty affiliate of the Black Mountain Institute.
2017-2018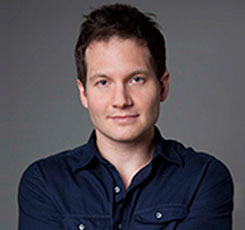 John D'Agata '95 returned to Hobart and William Smith Colleges as the 2017-18 Trias Writer-in Residence. D'Agata, professor of English and director of the Nonfiction Writing Program at the University of Iowa, is the author of The Lifespan of a Fact (with Jim Fingal) and About a Mountain, which was named by the New York Times as one of the 100 Best Nonfiction Books Ever Written. His first collection of lyric essays, Halls of Fame, was published by Graywolf Press and was a finalist for the PEN/Martha Albrand Award for First Nonfiction. As this year's Trias resident, D'Agata will teach a nonfiction workshop and mentor students who have shown distinction in writing at the Colleges. He will teach one class in the fall and work with a number of select students the following spring. Additionally, he will curate a speaker series, inviting his contemporaries to give readings of their work throughout the 2017-18 year.
2016-2017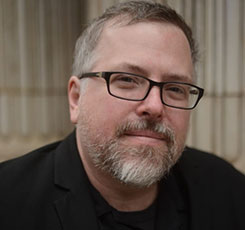 Jeff VanderMeer served as the 2016-2017 Trias Writer-in-Residence for Hobart and William Smith Colleges. His most recent fiction is the NYT-bestselling Southern Reach trilogy (Annihilation, Authority, and Acceptance) from FSG, which won the Shirley Jackson Award. The trilogy also prompted the New Yorker to call the author "the weird Thoreau" and has been acquired by publishers in 28 other countries, with Paramount Pictures acquiring the movie rights. VanderMeer's nonfiction has appeared in the New York Times, the Guardian, the Washington Post, the Atlantic.com, Vulture, Esquire.com, and the Los Angeles Times. He has taught at the Yale Writers' Conference, lectured at MIT, Brown, and the Library of Congress, and serves as the co-director of Shared Worlds, a unique teen writing camp. His forthcoming novel from Farrar, Straus and Giroux is titled Borne. He lives in Tallahassee, Florida, with his wife, the noted editor Ann VanderMeer.
2015-2016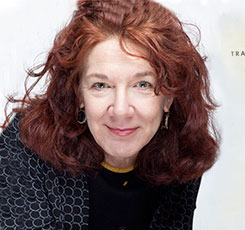 Poet, essayist, and erasure artist Mary Ruefle was the Hobart and William Smith Colleges 2015-16 Trias Writer-in-Residence. She led workshops and mentored the Colleges' most dedicated and driven student writers.
Ruefle is the author of more than a dozen books, including collections of poetry, prose, criticism, and a comic book. Her "Selected Poems" won the William Carlos Williams Award from the Poetry Society of America, and "Madness, Rack, and Honey: Collected Lectures" was a finalist for the National Book Critics Circle Award in Criticism. Her work as an erasure artist involves creating poetry by erasing words from existing texts. Ruefle's erasure treatments of 19th century texts have been exhibited in museums and galleries and published in "A Little White Shadow." She has received numerous honors, including the Robert Creeley Award, an award in literature from the American Academy of Arts and Letters, a Guggenheim fellowship, a National Endowment for the Arts fellowship, and a Whiting Award.
As award-winning poet Tony Hoagland wrote in a review of her work for "On the Seawall," "Ruefle is clearly one of the best American poets writing, and her body of work is remarkable for its spiritual force, intelligence, stylistic virtuosity, and adventurousness."
2014-2015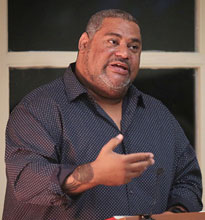 As the 2014-2015 Trias Writer-in-Residence, Chris Abani led workshops and served as a guide and mentor to many of the Colleges' most dedicated and driven writers. As part of the residency, he offered readings to HWS and the general public. Abani, a Board of Trustees Professor at Northwestern University, has also curated several writers with Cuban and Caribbean influences, such as poet Adrian Castro and novelist Cristina García.
Born in Nigeria, Abani received a B.A. in English from Imo State University in Nigeria, an M.A. in English, gender and culture from Birkbeck College, University of London and a Ph.D. in literature and creative writing from the University of Southern California. He is the recipient of the PEN USA Freedom-to-Write Award, the Prince Claus Award, a Lannan Literary Fellowship, a California Book Award, a Hurston/Wright Legacy Award, a PEN Beyond the Margins Award, the PEN Hemingway Book Prize and a Guggenheim Award.
Abani is the acclaimed author of "GraceLand" (2004) and "The Secret History of Las Vegas" (2014). His fiction includes "The Virgin of Flames" (2007), "Song For Night" (2007), "Becoming Abigail" (2006) and "Masters of the Board" (1985). In addition to novels, he has also compiled several volumes of poetry, most recently "Sanctificum" (2010), "There Are No Names for Red" (2010) and "Feed Me The Sun - Collected Long Poems" (2010).
2013-2014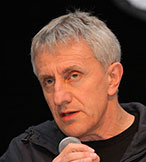 The acclaimed poet Piotr Sommer has been selected as the third writer in residence of the Peter Trias Residency for Writers. Sommer will participate in a one-year residency on campus to work with the Colleges' best student writers. As part of the residency, he will also offer a public reading and lecture, and participate in a service event for the greater Geneva community.
Sommer is the author of more than a dozen books of poetry, as well as many translations from contemporary American, English and Irish poetry. He authored "Przed snem" ("Before Sleep"), a book of poems for children, and his most recent book in English is "Continued." He also is the editor of the prestigious World Literature in Translation (Literatury na swiecie).
He has received numerous awards including the Silesius Poetry Prize 2010 and fellowships from the National Humanities Center in North Carolina 2005, DAAD in Berlin 2008, and Whitney Humanities Center at Yale 2009. He is currently working on his selected poems and a new collection of essays.
The Trias Residency Reading Series is supported by The Peter Trias Endowed Fund for Poetry and Creative Writing. This valuable fund was established through a generous bequest from Peter J. Trias '70.
2012-2013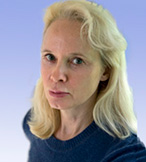 The acclaimed short story and novelist writer Mary Gaitskill has been selected as the second writer in residence of the Peter Trias Residency for Writers. She was chosen for her uncompromising and unflinching vision and the stringency of her craft.
Gaitskill is the author of five books fiction,most recently of "Don't Cry," a collection of stories, in 2009. Her novel 2005 "Veronica," which narrates the single day of a former fashion model as she ruminates on life, youth and a friend who recently died of AIDS, was a National Book Award Nominee. Gaitskill's collection "Because They Wanted To," was nominated for the prestigious PEN/Faulkner Award in 1998.
Her stories and essays have appeared in The New Yorker, Harper's Magazine, Esquire, "The Best American Short Stories (1993)," and "The O. Henry Prize Stories (1998)." Her story "Secretary," from "Bad Behavior," was the basis for the 2002 film of the same name. She is the recipient of a Guggenheim Fellowship, and has taught as numerous institutions, most recently at The New School in New York City.
2011-2012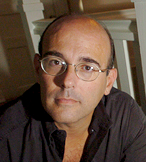 Award-winning writer Tom Piazza was selected as the first resident of the Peter Trias Residency for Writers. Piazza is the author of nine books including City of Refuge, set in post-Katrina New Orleans. A noted music writer, Piazza is the recipient of a Grammy. Bob Dylan has said, "Tom Piazza's writing pulsates with nervous electrical tension - reveals the emotions that we can't define." Piazza is currently a staff writer for the HBO series, Treme.
Piazza was chosen by the committee and the Provost because of his extraordinary fiction and non-fiction which have garnered him national attention. Additionally, his interdisciplinary interests and his commitment to writing about issues of social importance made him a particularly good match for the mission of the colleges. His work is taught in the political science department and used in faculty research in music. The committee believes, as well, that his work on a vibrant, diverse community will be of interest in Geneva.