First Year Experience:
For Families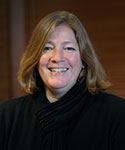 Dear Parents,
Congratulations and welcome to the Hobart and William Smith community.
As the Director of Parent Programs, I look forward to working with you over the course of your student's HWS career. As a parent with a kid in college, I understand the pride, excitement and, yes, even the anxiety that you are likely feeling right now.
Over the next four years, your student will face challenges, explore new interests and grow as a person. You have placed your trust in Hobart and William Smith, and we intend to honor that trust by supporting your student during every step of that process. Our goal is to ensure that your student leaves us with the tools necessary to be successful.
Your student's first experience at HWS, Orientation, will take place from Sunday, Aug. 20 – Sunday, Aug. 27. Programming for families will also take place on Sunday, Aug. 20, connecting you to resources across campus.
I am available throughout the summer at (315) 781-4068 or parentsoffice@hws.edu. You or your student may also contact our student-run Orientation staff at orientation@hws.edu or (315) 781-3041.
Again, please accept my congratulations and warm welcome.
Sincerely,
Jennifer Murray
Director of Parent Programs
FAMILY SCHEDULE FOR ORIENTATION
Parents and families are invited to join us on campus for the first day of Orientation, Sunday, August 20, 2023. A brief outline of what to expect on Sunday is below.
Arrive on Campus
Location: Report to the Quad (Rain Location: Bristol Field House) To facilitate a smooth check-in and shorter lines under the Matriculation Tent, Hobart and William Smith strongly recommends that all families arrive during the following staggered check-in hours:
8:30 a.m. - 9:30 a.m: Third and Fourth Floor Residents
9:30 a.m. - 10:30 a.m: Second Floor Residents
10:30 a.m. - 11:30 a.m: Ground-Level and First Floor Residents
11 a.m. - 11:30 a.m: International Students
8:30 a.m. - 11:30 a.m. | Check-In and Matrictulation
Location: The Quad (Rain Location: Bristol Field House) Check in with our friendly Orientation staff! Shake hands with President Mark D. Gearan on the Coxe Hall steps, the same steps your student will walk across when they graduate. Meet your student's First-Year Deans and pick up their Orientation materials and residence hall room key on the Quad.
8:30 a.m. – 2:45 p.m. | Move In
Location: Residence Halls Your student will meet their roommate and move into their new home! The Orientation staff will be stationed at your student's residence hall to help them move their personal belongings to their room.
11 a.m. - 1:30 p.m. | Complimentary On-Campus Lunch
Location: Scandling Center Enjoy a "grab and go" bagged lunch at the Scandling Campus Center Café or a sit-down lunch in Saga Dining Hall. Vegetarian and vegan options will be available at both locations.
Off-Campus Lunch If time permits, families are welcome to travel off-campus to enjoy lunch at one of our beautiful downtown Geneva restaurants.
2:45 – 4:45 p.m. | Students Meet Their Orientation Mentors/Spark! Team Meeting
Location: William Smith Green (Rain Location: Scandling Center) Your student will find their Orientation Group (your student's number is printed on their folder and their nametag) and your student will meet their Orientation Mentor who will guide them to their first Spark! team meeting!
3 p.m. - 3:45 p.m. | Parents and Families: Concurrent Sessions (Choose the session that pertains to your student - Optional)
Location: Albright Auditorium William Smith College Class Dean, Lisa Salter, will introduce herself and how deans work with students as they arrive and grow through their experiences at the Colleges over four years.
Location: Vandervort Room, 2nd Floor, Scandling Center Hobart College Class Dean, David Mapstone, will introduce himself and how deans work with students as they arrive and grow through their experiences at the Colleges over four years.
3:30 p.m. - 4 p.m. | Parents and Families: Understanding the Title IX and Sexual Misconduct Policy
Location: Common Room, Scandling Center Please join the Office of Title IX Programs and Compliance for a session about the Title IX and Sexual Misconduct Policy, including information about prevention and education. Participants will learn more about rights and responsibilities, resources, and how best to support students' understanding of affirmative consent and healthy relationships.
3:45 p.m. - 4:45 p.m. | Parents and Families: Resource Fair
Location: The Quad (Rain Location: Bartlett Theatre) Interact with offices and staff members from across campus to learn about campus resources to help make your student's transition successful!
3:45 p.m. - 4:45 p.m. | Parents and Families: Refreshment Bank
Location: Gearan Center for the Performing Arts Recharge with light refreshments while meeting fellow parents and families.
5 p.m. | President's Welcome Ceremony
Location: Stern Lawn (Rain Location: Vandervort Room) Your official welcome to campus from President Gearan.
5:30 p.m. | Family and Friends Farewell
Location: Stern Lawn Take advantage of this opportunity to say goodbye to family and friends as they depart campus.
Please note: family members of students playing a fall sport or participating in a Spark! Outdoor Adventure Program are not required to return for matriculation and move in. There are no events for parents and families to participate in during the remaining days of Orientation, Aug. 21-27.
MORE INFO
Please visit the Parents and Families webpage for more information and updates.
Update YOUR CONTACT INFO
Throughout your child's HWS experience, we will be contacting you primarily through mail and e-mail. To ensure that we have the most up to date contact information please complete our Directory Information Form or notify our office of any changes to your contact information at parentsoffice@hws.edu.