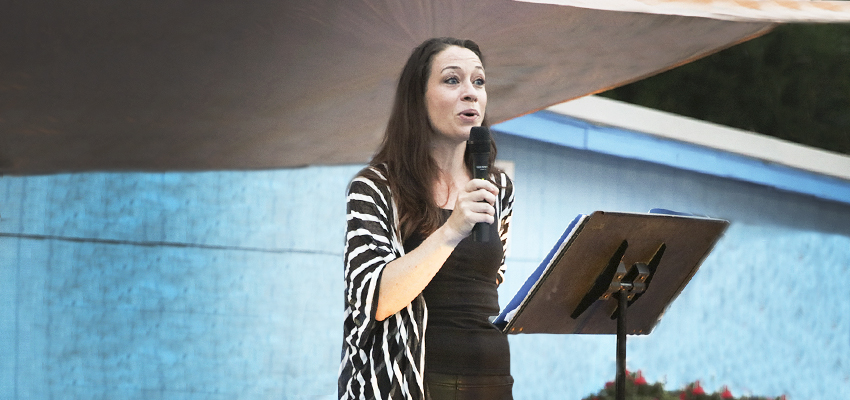 HWS News
18 May 2022 • Faculty Conroy-Goldman's Fiction in the Normal School
Professor of English Melanie Conroy-Goldman's short story "De Domum" appears in the online literary magazine The Normal School.
"De Domum" is "obliquely a lockdown story — written for people who just want to get out of the house and away from their domestic responsibilities," says award-winning author and Professor of English Melanie Conroy-Goldman.
"I know my house is a woman because she has a migrating trap door. I'm in the hallway. Whoops! I'm in the kitchen. I'm in the basement. Whoops! I'm in the attic," begins the story, published online in April by The Normal School.
Conroy-Goldman's debut novel, The Likely World, was the recipient of a Foreword Indie Award in 2020, and a top-10 finalist for the VCU Cabell prize, as well as a finalist for the Best Book Award.
The Normal School is the literary magazine published by the Master of Fine Arts program in creative writing at California State University at Fresno.
Conroy-Goldman is one of the founding directors of the Trias Residency for Writers at HWS. Her fiction has been published in Southern Review, StoryQuarterly, in anthologies from Morrow and St. Martin's and online at venues such as McSweeneys.net. She has volunteered as a teacher at a maximum security men's prison with the Cornell Prison Education Program. She lives in Ithaca and is the biological mother of one and chosen stepmother to two. Her work is represented by Bill Clegg at the Clegg Agency. Follow her on Twitter @mscongo and Instagram @melanieconroygoldman.