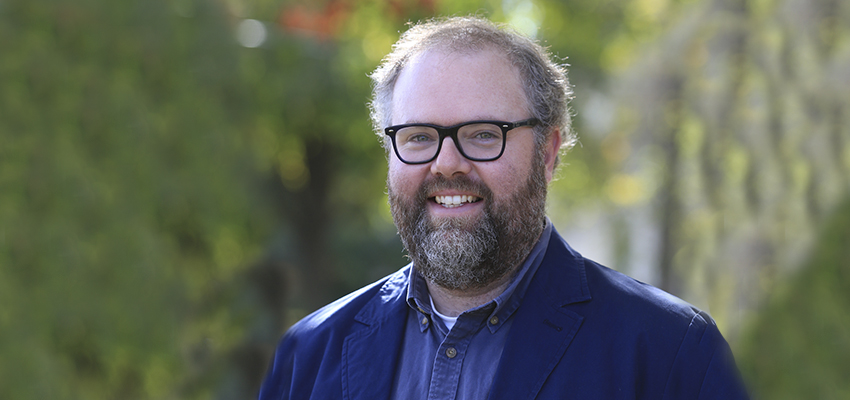 HWS News
30 September 2022 • Faculty Crow Awarded Research Fellowship By Colin Spencer '19
Work focuses on American colonial political identity
Associate Professor of History Matthew Crow has been awarded a residential research fellowship by the Omohundro Institute at the College of William and Mary for his study of the influence of the Renaissance and Reformation on the Enlightenment and Age of Revolutions, and on the origins of the United States.
The fellowship includes a stipend and between one to four weeks of study in the collection of rare books donated in 2019 to the Wolf Law Library at the College of William and Mary.
Crow will spend a week at William and Mary in October and again in December.
"It definitely feels great to get a short-term fellowship at the Omohundro Institute, especially one that is so flexible," says Crow. "The Lapidus Collection of Rare Early American Legal Texts at William and Mary is a great opportunity to get back into some of the questions that got me into historical research in the first place."
In his research, Crow specifically is looking at how "colonial elites in Virginia thought of themselves as building an Anglican polity, and I want to suggest that the Church of England and its politics and problems loomed much larger in colonial legal and intellectual culture than we have previously appreciated," he says.
Crow says his research can be linked to Hobart and William Smith and how Bishop John Henry Hobart, the founder of Hobart College, was a product of his time with a desire to hold on to and continue an Anglican tradition, even as its authority in America crumbled.
"With the fellowship, I'll be able to look at legal texts in colonial libraries that bare out this history," says Crow.
Crow is the author of Thomas Jefferson, Legal History, and the Art of Recollection, published in 2017 by Cambridge University Press. His scholarship examines the intersections between American legal, political and cultural history. His current project, Melville's Ocean: Legal Imagination at the Boundaries of the Human, explores the work of Melville, the intellectual history of maritime law, and the problem that discretionary justice poses to democratic thought and politics.

Crow joined the HWS faculty in 2012. He holds a B.A. from University of California, San Diego and M.A. and Ph.D. from the University of California, Los Angeles. He has been a research fellow at the Robert H. Smith International Center for Jefferson Studies, the Huntington Library and other organizations. He serves as the faculty athletic fellow for the Hobart crew team.