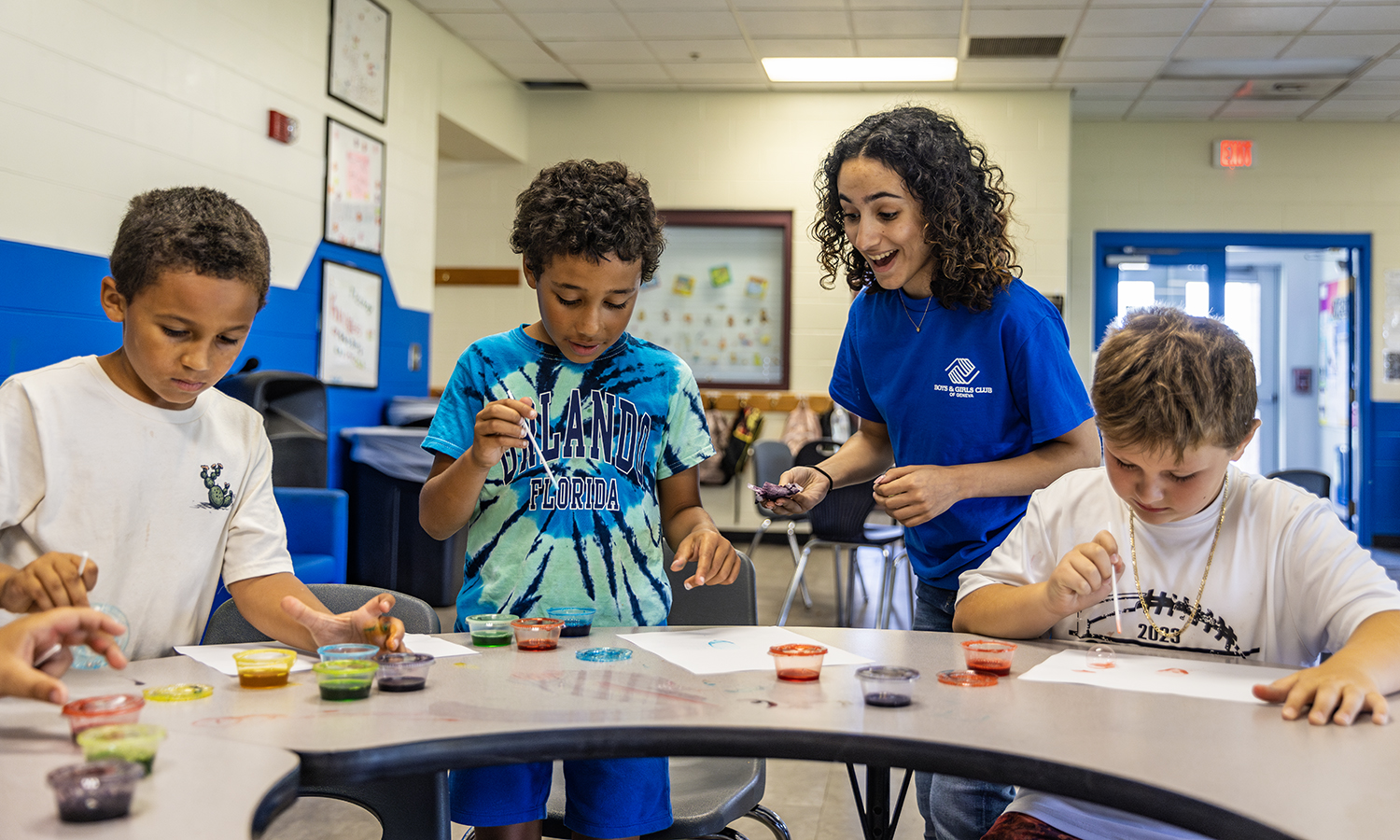 HWS News
29 August 2023 • Service 22,000 Hours of Service and Counting
HWS Summer of Service interns make an impact in Geneva. Since the program's inception in 2011, 81 interns have contributed more than 22,000 hours of work.
This summer, 11 students served the Geneva community through internships with the Center for Community Engagement and Service Learning (CCESL), the Boys and Girls Club of Geneva, Geneva Breathes and Geneva 2030.
Summer of Service is generously supported by Thomas J. Patchett '88 and friends of the Colleges Trustee Margueritte Murphy and Brian Cooper. Additional grant funding was secured by the Boys and Girls Club and Geneva 2030. Free housing for interns was sponsored by Sodexo.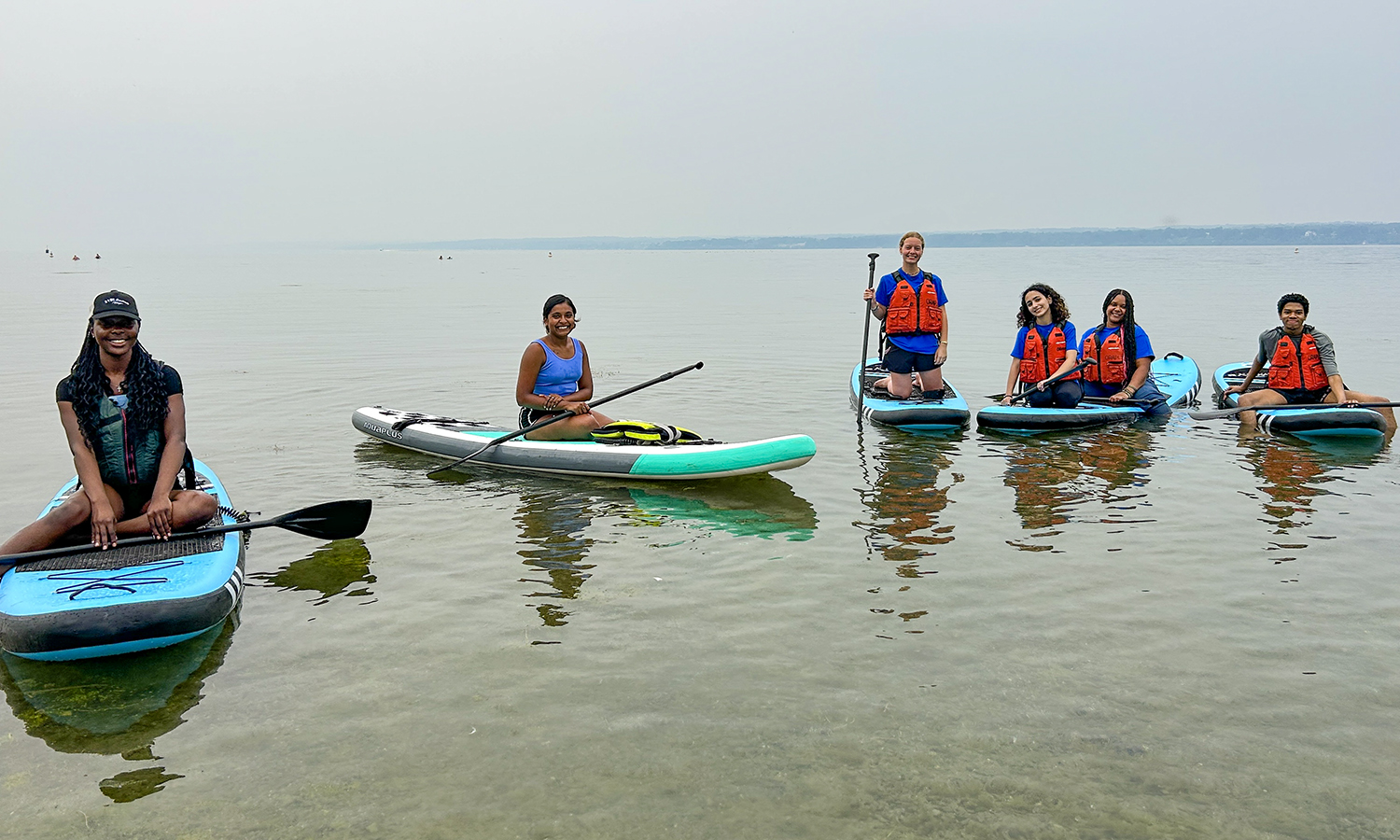 Over the course of the summer, CCESL coordinated several Summer of Service bonding sessions, including barbecues, paddleboarding and attending festivals at Seneca Lake State Park that strengthened students ties to one another and the Geneva community.
On August 9, Summer of Service interns presented recaps of their summer to HWS alums, staff and community partners on Zoom, with opening remarks by CCESL Director Katie Flowers. Watch their presentations here.
At the Boys and Girls Club, Wedad Al Rousan '26, Seneca Blakely-Armitage '24, Mia Lugo '26, Jessica Nguyen '26, Caroline Ruffner '25 and Meleah Spriggs '25 were an integral part of operating the Summer University program for Geneva elementary and middle school aged students.
Director of the Boys and Girls Club of Geneva Takeema Allen joined the Zoom session to share gratitude and offer further opportunities. "Thank you wholeheartedly for all of your work. There were definitely days where it was more hard than easy. We appreciate your time, efforts and resilience. And we welcome all of the Summer of Service students to volunteer and tutor at the Boys and Girls Club. I am happy to be a partner fighting the good fight," she shared.
Blakely-Armitage, who ran the Boys and Girls Club's kitchen program – from daily food preparation to cooking instruction – says the experience gave her practical experience applying a holistic approach to education.
Lugo, who coordinated music and movement programming, reflected on the genuine bonds she created with students. "I received so many arts and crafts and sealed letters during the summer," she said.
Anjalee Wanduragala '26 and Jordan Hodge '26 championed the CCESL Community Donation effort, coordinating the redistribution of donated items from the academic year to local organizations. Additional responsibilities included updating the children's book library in CCESL for the America Reads program and running the @hwsccesl Instagram.
"Geneva is an amazing example of a diverse community that works together to ensure its growth and development. My experience left me feeling more grateful to be part of not only HWS but also the community of Geneva," Wanduragala said.
As an intern for Geneva Breathes, an organization that provides courses on mindfulness and meditation, Jamachukwunma Atumonyogo '26 took on three major projects: helping expand the organization's Teen to Teen Program; web design; and social media and outreach initiatives.
Hannah Bixby '23, MAT '24 and Derrielle Faulkner '25 interned for Geneva 2030, where they focused on the "What's Next?" program, a weeklong career and college readiness program for Geneva high school students. Bixby and Faulkner developed programming and led sessions on resume development, career exploration and networking and interviewing essentials.