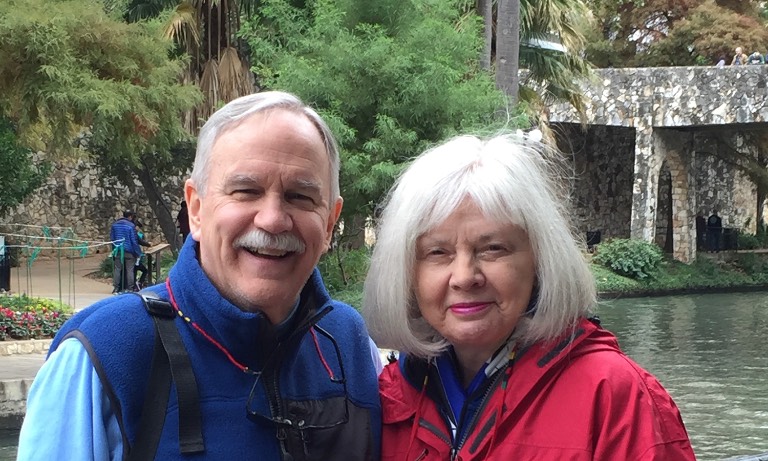 HWS News
12 June 2023 • Alums York '71 Commits to the Future with the Anderton Challenge By COLIN SPENCER '19
Michael '71 and Barbara York's $250,000 gift supporting scholarships will have 50 percent more impact through the Anderton Challenge.
After high school, Michael York '71 arrived at Hobart feeling unprepared. "The learning curve for me was really steep," he says, but he found his footing academically thanks to his advisor, John Farnsworth, and professors like Robert Huff and Frank O'Laughlin.
It was their compassion and humanity that inspired York to become a teacher and, ultimately, to support a new scholarship fund.
The Michael L. and Barbara Ann York Scholarship Fund, established with a $250,000 gift from the Yorks, will receive a 50 percent match through the Anderton Impact Challenge for Scholarship and Financial Aid. The fund will support students intending to major in history, which Michael studied at Hobart.
To reach its $3 million goal, the Anderton Challenge offers a 50 percent match to alums and friends 60 years and older who join the Wheeler Society with a planned gift of $100,000 or more.
Barbara says their wish is to give back to the "places that were important to us," noting her support for her own alma mater, Ohio University.
For Michael, Hobart and William Smith was a place where he had guidance from friends, like roommate Stephen Nilsen '71, and professors who "opened up their houses and their personal lives, which was extraordinary."
A history major, Michael went on to earn his master's degree from the University of Illinois and spent a long career teaching history at private schools in Ohio, Minnesota and Texas, before retiring in 2014.
Throughout his career, Michael often taught the Modern European History Adanced Placement course. He is proud that nearly all of his AP students performed so well on the year-end exam that they earned credit and placement before they went to college.
"I benefited from many extraordinary professors at the Colleges," Michael says. "Those experiences became the foundation of my 40-year career as a teacher."
The Anderton Impact Challenge runs through June 30. To join Michael and Barbara in accepting the challenge, please visit the link below.
Learn more about the Anderton Impact Challenge for Scholarship and Financial Aid.