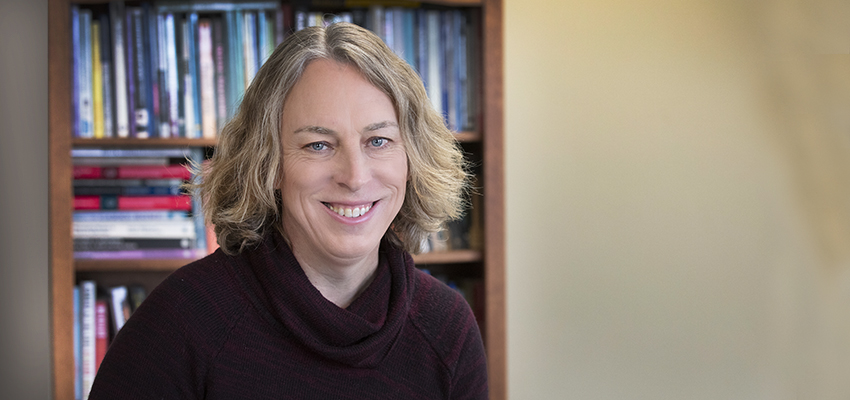 HWS News
1 April 2021 • Faculty MaKinster Named Associate Provost
Professor of Education Jamie MaKinster will administer a wide range of programs shaping campus operations and the academic and curricular focus of the institution.
Beginning July 1, Professor of Education Jamie MaKinster will join the Office of Academic and Faculty Affairs as Associate Provost for Curricular Initiatives and Development.
"Alongside her strengths as an educator and scholar, Professor MaKinster has demonstrated remarkable leadership in academic development and administration. Between her teaching, institutional service and advocacy work with students, she has a deep understanding of the Colleges' many assets, including our incredible faculty, and where we have opportunities to strengthen our commitment to student success," says HWS Provost and Dean of Faculty Mary L. Coffey.
Over the past 19 years, MaKinster has twice served as the chair of the Education Department, facilitated the accreditation of the Colleges' Teacher Education Program and has administered research grants and academic programs alike.
"Professor MaKinster has a wealth of scholarly expertise in curricular and professional development. Alongside her stellar credentials as an academic, the breadth of her administrative and community service experiences will be invaluable in shaping and achieving our institutional goals," says incoming Provost and Dean of Faculty Sarah R. Kirk, who will succeed Coffey on June 30.
As Associate Provost, MaKinster will oversee the Colleges' First-Year Seminar program and FSEM Fellows; bi-disciplinary courses; Maymester, Summer Session and J-term programs; department and program reviews; administrative support for curricular assessment; and support for academic advising. She will also serve as a member of Committee on Academic Affairs, help guide planning for the Middle States reaccreditation process, and work with the Provost and Dean of Faculty on issues involving the State Education Department, among other duties.
MaKinster takes over the work of David Galloway, who has served in the Office for Academic and Faculty Affairs for the past three years. Galloway will return to his faculty role in the Russian Area Studies program. MaKinster will join Associate Professor Joe Rusinko, who will continue his work in OAFA for a fourth year, serving as Senior Associate Provost.
The coauthor of several books and dozens of articles and chapters, MaKinster has taught courses at HWS focused on teacher education, scientific inquiry, the national parks, citizen science, educational leadership and environmental sustainability. Since 2006, she has served as executive director of the Colleges' Environmental Studies Summer Youth Institute. She holds a B.S. from Indiana University of Pennsylvania, an M.S. from the University of Louisiana and a Ph.D. Indiana University, Bloomington.