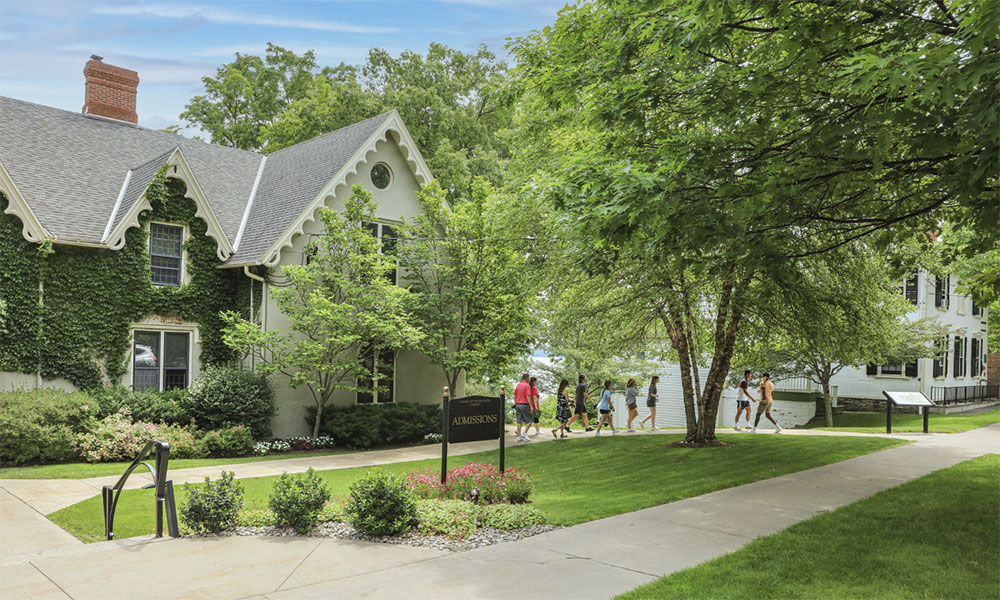 Applying to HWS
HWS is highly selective in the admissions process. Successful applicants will have:
Challenged themselves with a rigorous high school curriculum
Applied their talents to the betterment of their school and community
Met with an HWS admissions staff member for an interview
Demonstrated a propensity to be curious, resourceful, persistent and conscientious
Add HWS to Your Common App Apply Now
Early Action
Sail into the spring of your senior year confident in your future. Apply to HWS by Nov. 15 and receive a decision by Jan. 17.
Early action (EA) is a non-binding process, giving applicants the opportunity to review admission and financial aid offers from other schools. Students receive their admissions decision on Jan. 17 and have until May 1 to respond to their offer of admission. Acceptance rate is similar to that of Regular Decision.
Early Decision
Early Decision applicants do well academically, become leaders on campus, build school spirit, study abroad in high numbers, and participate in internships and research opportunities. And as a result, Early Decision applicants at HWS are admitted at a higher rate than Early Action and Regular Decision candidates. We know that inside and outside the classroom, Early Decision applicants make HWS a dynamic and vibrant place.
If you make HWS your first and only college choice, we will honor your commitment by committing to you.
Benefits of Applying Early Decision:
Decision notification by Dec. 15 and, if admitted, a financial aid award that is the same or better than if you applied Regular Decision.
A personalized financial aid package before you commit.
Priority registration for first-semester classes and first-year housing.
Enrollment deposit is waived.
Early access to our Lake Effect series, a pre-collegiate program that facilitates group and one-on-one conversations with HWS faculty and staff, allowing you to get a head start on adjusting to college.
Regular Decision
Regular Decision (RD) is the most popular of HWS' application plans. Students have until February 1 to gather their materials and perfect their application. Similar to Early Action, RD is non-binding and accepted students have until May 1 to make their final decision.
Application Requirements
To be considered for admission, please submit the following:
Dates and Deadlines
August 1
October 1
November 15
Common Application and all supplemental application materials due for EA and ED I candidates
Arts portfolio due for EA and ED I applicants interested in merit-based arts scholarships
FAFSA due for EA and ED I applicants interested in need-based aid
December 15
Admission decision available online for ED I candidates
Financial aid award available online for ED I students
January 1
Enrollment deposit deadline for ED I
January 15
Common Application and all supplemental application materials due for ED II candidates
Arts portfolio due for ED II applicants interested in merit-based arts scholarships
FAFSA due for ED II applicants interested in need-based aid
January 17
Admission decision available online for EA candidates
Financial aid award available online for EA students
February 1
Common Application and all supplemental application materials due for RD candidates
Arts portfolio due for RD applicants interested in merit-based arts scholarships
FAFSA due for RD applicants interested in need-based aid
February 15
Admission decision available online for ED II candidates
Financial aid award available online for admitted ED II students
March 1
Enrollment deposit deadline for ED II
April 1
Admission decision available online for RD candidates
Financial aid award available online for admitted RD students
May 1
Enrollment deposit deadline for EA and RD