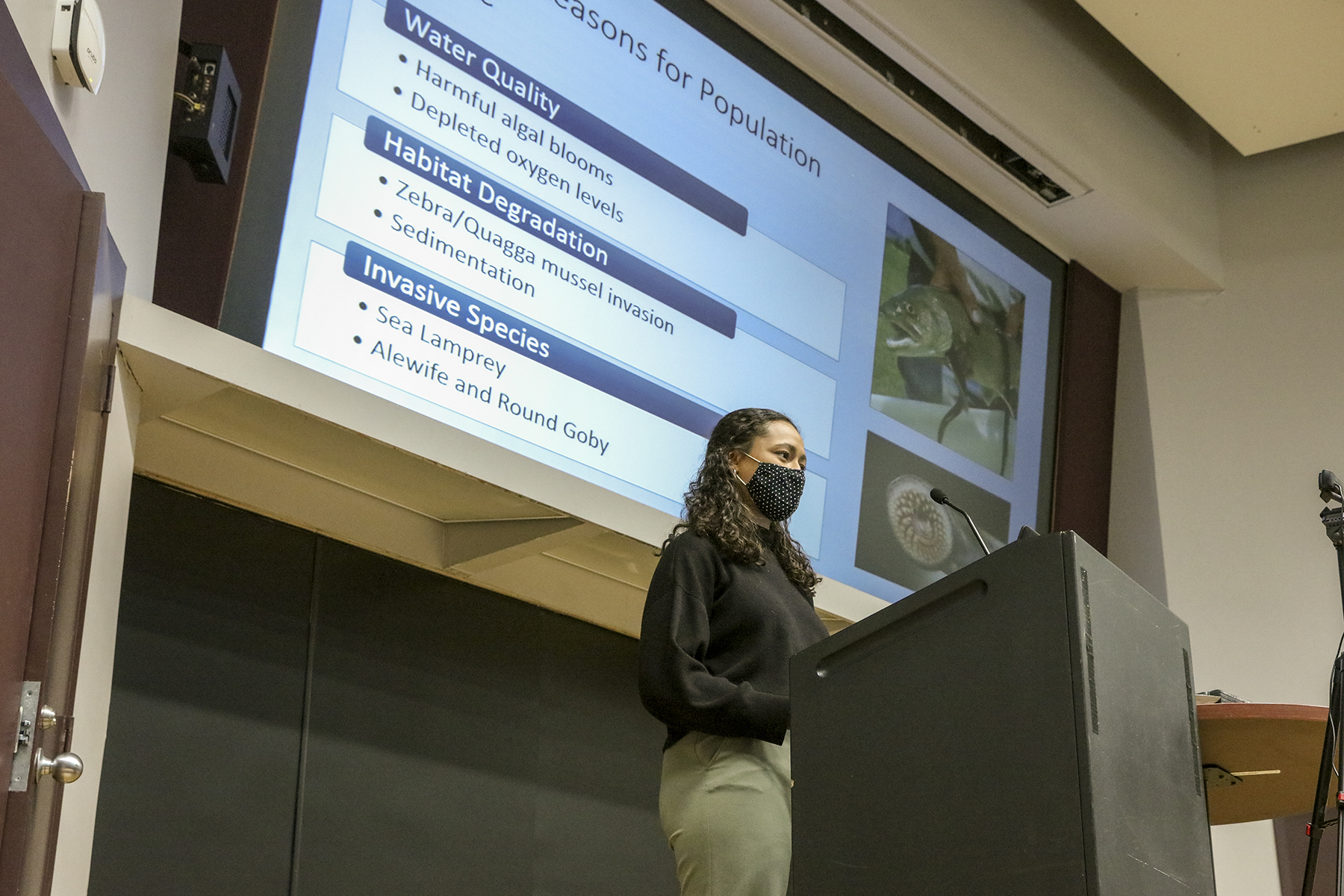 The Center for Teaching and Learning
Senior Symposium
The Senior Symposium is a day-long conference that provides the opportunity for HWS Seniors and Masters students to present their intellectual passions to the HWS community. Students present on concurrent interdisciplinary panels that are moderated by HWS faculty.
WHO PRESENTS:
HWS Seniors and Masters students are invited to present on a variety of topics, from academic research and projects to co-curricular, community service, and study abroad experiences.
WHO ATTENDS:
This event is open to all. Members of the HWS and Geneva community, as well as family and friends of presenters are invited to attend.
WHERE AND WHEN:
The Senior Symposium takes place every April in the Melly Academic Center and Library. This year, the Senior Symposium will be held on Friday, April 14, 2023. Please see below for more information about how to participate, present, or attend.
Check out highlights from the 2022 senior symposium
Senior Symposium Registration
Registration is open from March 1 - March 9 at 11:59 pm. This deadline is absolute; we can accept NO late registrations.
Registration requires the following: a faculty sponsor, an application form, and a publication-ready abstract submitted online. You must complete all the registration steps by the March 9 deadline. To do so, please follow the following four steps:
Find a faculty sponsor (your sponsor will review your application materials and guide you through the registration process, and will assess and sign-off on your registration and abstract);
Fill out and upload a symposium registration form;
Create a publication-ready project abstract that conforms to the abstract guidelines;
Submit the application and abstract online.
Registration Confirmation
Once all steps in the registration process are complete, you will receive an e-mail from the Center for Teaching and Learning confirming your registration. If you have additional questions, please contact Ruth Shields at shields@hws.edu or x3959.
ABSTRACT GUIDELINES
Abstracts must conform to the content, style, and format specifics listed below. Please note that CTL will be offering workshops and editing clinics to help you create the abstract. We will post times and locations as these are determined.
Please include the following:
a project summary
information about your motivation for the project (if appropriate)
key references (at the bottom)
Aim for a length between 200-250 words, write concisely and in active voice when possible, and use the style and tone that are appropriate in your subject and discipline.
Format
Submit in publication-ready Word format.
Center the title (all capital letters), then skip one line and center your name (upper and lowercase letters), and then skip one line and begin the abstract.
Single space.
Use block paragraphing.
For abstract text, use Times New Roman 12 pt type; for references, use Times New Roman 10 pt type.
Maintain 1.25" margins for top, left/right, and no less than a 1" margin at bottom.
For references, use the citation method appropriate to your subject.
Please review the sample abstracts provided for your reference. Understand that abstracts are subject to review and editing at the discretion of the Center for Teaching and Learning; we will be compiling the abstracts into a Senior Symposium booklet for distribution to all participants and attendees.
2023 Abstract and Presentation Workshops
This year's abstract writing workshops will be staffed by CTL professional staff Susan Hess and Ingrid Keenan; they are drop-in, one-to-one and small group opportunities for students to brainstorm, draft and polish their Senior Symposium abstracts. You are also welcome to make an appointment with a Writing Fellow or stop in to their drop in hours.
How-to Write an Abstract Workshops:
Location: Writers' Nook (first floor of the library)
Friday, March 3: 10:30 - 11:30 a.m. and 3 - 4:30 p.m.
Monday, March 6: 3 - 5 p.m.
Tuesday, March 7: 4 - 5:30 p.m.
Revising and Editing Drop-Ins:
Location: Center for Teaching and Learning
Wednesday, March 8: 9 a.m. – 5 p.m.
Thursday, March 9: 9 a.m. – 5 p.m.
Registration with abstracts are due Thursday, March 9 by 11:59 p.m. and must be submitted online.
You can make an appointment or find the schedule for drop-in hours with a Writing Fellow on the Writing Fellows webpage.
INFORMATION FOR FACULTY
A large part of Senior Symposium success relies on faculty participation, in several different roles:
Seeking out students of promise and encouraging them to participate;
Sponsoring students by reviewing their applications and abstracts (to be accepted, all applications must have a faculty sponsor's approval);
Guiding applicants toward the abstract writing and presentation workshops, as well as the sample abstracts available on this website, and using their expertise and experience to help ensure high quality in the student's application and presentation;
Facilitating those workshops using that same expertise and experience;
Moderating students' panel presentations on Symposium Day;
Embedding Senior Symposium attendance in your spring classes and encouraging your students and advisees to attend;
And of course, attending Senior Symposium yourself and celebrating our students.
If you would like to volunteer to run an abstract writing or presentation workshop or if you have any questions about the student application process, please contact Ruth Shields at shields@hws.edu or x3959.