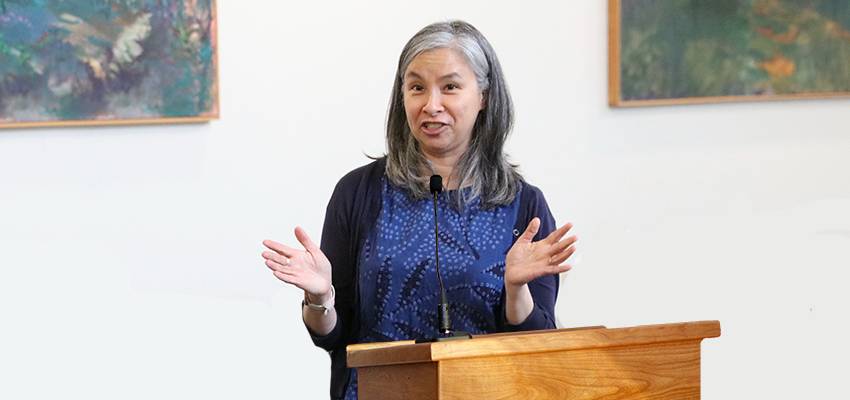 HWS News
21 July 2022 • Faculty • Research Blanchard Presents her Song Dynasty analysis at Stanford
In Song Dynasty Figures of Longing and Desire, Professor of Art and Architecture Lara Blanchard "analyzes images of women in painting and poetry of China's middle imperial period, focusing on works that represent female figures as preoccupied with romance," as the publisher notes.
Beyond "simple representations of the daily lives of women, or as straightforward artifacts of heteroerotic desire," Blanchard's book "proposes that such works could additionally be interpreted as political allegories, representations of the artist's or patron's interiorities, or models of idealized femininity."
The book — which won the 2020 the Joseph Levenson Pre-1900 Book Prize from the Association for Asian Studies — was the basis for Blanchard's East Asian humanities workshop at Stanford University this spring. Hosted by the university's Department of East Asian Languages and Cultures, the interdisciplinary workshop drew an audience of art historians and literary scholars, ranging from graduate students to senior scholars.
At Stanford, Blanchard also met with master's and doctoral candidates, including former student Melissa Hosek '14, who recently defended her Ph.D. dissertation in modern Chinese literature.
Blanchard is the Luce Professor of East Asian Art and the Lloyd Wright Professor in Conservative Studies at HWS. In addition to authoring Song Dynasty Figures, she is the coeditor of Gender, Continuity, and the Shaping of Modernity in the Arts of East Asia, 16th – 20th Centuries, and coauthor of the textbook Asian Art, which illuminates the diversity of Asian artistic traditions from the prehistoric period through the 21st century. She holds a M.A. and Ph.D. in art history from the University of Michigan.