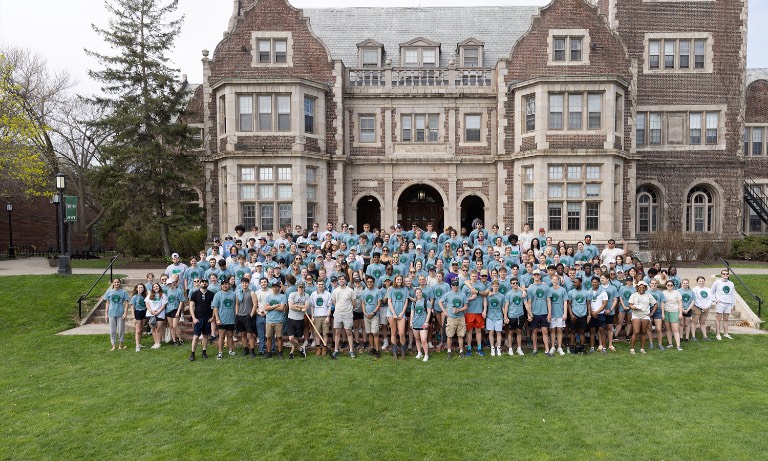 HWS News
31 August 2023 • Service HWS Ranked 5th in the Nation for Service, 32nd Overall
For the seventh year in a row, Hobart and William Smith Colleges are among the top five U.S. liberal arts institutions for service, according to Washington Monthly. The annual rankings also put the Colleges at 32nd overall for liberal arts schools.
"As an institution with deep roots in civic engagement, it is especially meaningful to see our campus' work celebrated," says Provost and Dean of Faculty Sarah Kirk.
Washington Monthly's 2023 College Guide and Rankings puts HWS at fifth in the nation for service and 32nd overall among liberal arts colleges, moving up 15 spots in the ranking from last year.
Since 2005, Washington Monthly has rated U.S. colleges and universities according to their contribution to the public good in three, equally weighted categories: social mobility, research, and community and national service. The rankings reflect excellence "across the full breadth of our measures, rather than…in just one," according to the magazine's methodology. HWS rose from 47th in the nation to 32nd between the 2022 and 2023 rankings.
"As an institution with deep roots in civic engagement, it is especially meaningful to see our campus' work celebrated," says Provost and Dean of Faculty Sarah Kirk. "The ways in which our students, faculty and staff apply knowledge to contribute to and improve the world around them is at the heart of our mission. This recognition, and recent news from the Princeton Review celebrating our faculty and career services, makes for a perfect way to begin the academic year."
Hobart and William Smith have ranked among in the top five in Washington Monthly's public service category since 2017, including two back-to-back years as number one in the nation. Service rankings are calculated according to HWS alum service in the Peace Corps*; institutional participation in the AmeriCorps Matching Program; the allocation of Federal Work-Study grant funds toward community service programs; and voting engagement.
"It's wonderful to get this external recognition for the work that the Colleges, the people of Geneva, and our many partners around the region, nation and globe are engaged in," says Katie Flowers, director of the HWS Center for Community Engagement and Service Learning. "I am grateful to our faculty, staff, administrators, every one of our community partners and of course our passionate students, who fuel so much of our transformative community work."
All HWS students participate in community service, service learning and/or community-based research starting in their first week on campus during Orientation. Annually, students contribute more than 80,000 hours of service and engagement and generate approximately $110,000 in fundraising efforts that are directed to non-profit organizations. Learn more about the Colleges' 2022-23 impact.
Washington Monthly's social mobility criteria factors in graduation rates, financial data and student body diversity. Research includes the number of full-time faculty, Ph.D. completion rates among graduates and institutional research spending. Read the full rankings and methodology.
This summer, the Princeton Review's Best 389 Colleges ranked Hobart and William Smith among the top 25 colleges and universities in the country for faculty, career services and commitment to the environment. The Colleges also appear on the list of "Colleges That Create Futures," which includes 50 schools that "empower students to discover practical applications for their talents and interests through experiences that complement their classes and coursework." Hobart and William Smith were also featured in Money magazine's annual Best Colleges in America rankings for quality education, net cost and graduate outcomes in July.
*The most recent HWS Peace Corps volunteers include five members of the Classes of 2023. Learn more here and here.