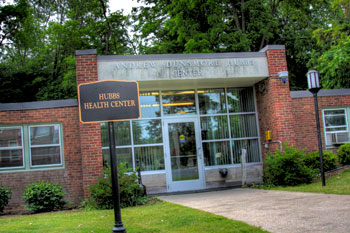 HUBBS FAQ
What does Hubbs Health Center Offer? Hours? Contact Information?
Hubbs Health Center: located at 119 St. Clair Street, Geneva, New York 14456
Hours: Monday- Friday 8 a.m.-5 p.m. (Closed noon-1 p.m.)
Contact Information: phone: (315) 781-3600, fax: (315) 781-3802, email: hubbs@hws.edu
Appointments: students need to call and schedule an appointment to be seen at Hubbs Health Center, Monday-Friday 8 a.m.-5 p.m.
After Hours (after 5 p.m.) students can be seen at the following:
Finger Lakes Health Urgent Care
789 Pre-Emption Road Geneva, New York 14456
Hours: 8 a.m.-8 p.m., 7 days a week
Phone: (315) 781-2000
Geneva General Emergency Department
196 North Street Geneva, New York 14456
Phone: (315) 787-4000
Transportation: Students requiring transport to the Urgent Care, Emergency Department or area pharmacy can call:
Campus Safety: (315) 781-3656 or Emergency Number (315) 781-3333
The Other Taxi: (315) 521-6402 or 315-759-3446
What we treat at the Hubbs Health Center
Sore Throats
Ear Infections
Colds/flu/URI
Cough
UTI
Testing for STI's (sexually transmitted infections)
Ortho injuries
Dental Pain
Minor wounds, lacerations, cuts, burns
Reproductive care/Sexual Health
Physical exams (sports, study abroad, service learning, clinical internship program)
We offer flu vaccines, tetanus, PPD testing, allergy injections; all vaccines and lab testing are billable to your insurance.
Insurance Information
Students will be billed for any visit at Hubbs Health Center. Please check to make sure your dependent is covered for any services while attending Hobart and William Smith Colleges, as well as any other provider or lab charges arising out of treatment or care of your dependent. Students have the option of purchasing the College Insurance Plan currently offered.
Prescriptions
Medications your dependent is currently prescribed by their physician can be e-scribed or faxed by their PCP to any of the area pharmacies listed. If your dependent is seen at Hubbs Heath Center and requires a medication, a prescription will be sent to one of the area pharmacies.
Area Pharmacies
Wegmans: 300 Hamilton St., Geneva, NY 14456, (315) 781-7737
Walmart: 900 NY 5&20, Geneva, NY 14456, (315) 781-2353
Walgreens: 431 Hamilton St., Geneva, NY 14456, (315) 781-9080
Rite Aid: 420 Hamilton St., Geneva, NY 14456, (315) 789-2333
North Street Pharmacy: 200 North St #103, Geneva, NY 14456, (315) 787-5388
Hubbs Health Center Staff Members
Dr. Elizabeth Osborn - Medical Director of Hubbs Health Center
Dr. John Marino - Psychiatrist
Robert Switzer, PA-C - Director of Hubbs Health Center
Sharlyn Secor, FNP-C
Amy Willower, RN
Linda Somerville, LPN
Cynthia Madia-White - Medical Receptionist