JPR FIRST-YEAR
NEIGHBORHOOD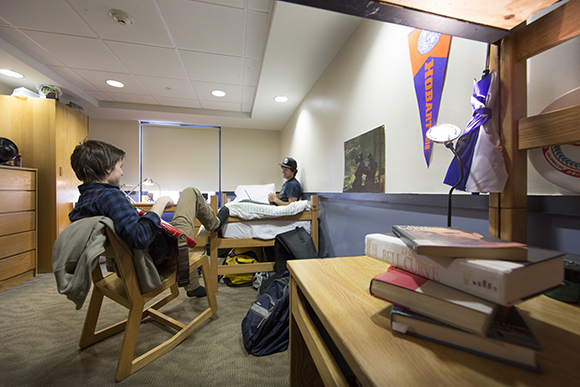 JACKSON, POTTER, AND REES HALLS
Jackson, Potter, and Rees Halls makeup HWS' first-year-only neighborhood. The three halls are part of a residence complex and are attached by hallways/stairwells that connect all three halls together. This residential complex is known as JPR.
JPR is home to 330 Hobart and William Smith first-year students. Students participating in our Living and Learning Communities program reside in this complex. These students participate in classroom activities right on their floor!
AMENITIES AT A GLANCE

Room Types(s)

Single and Double Occupancy

Suites

2 and 3 double bedroom suites with common room *Common rooms are not furnished

Availability varies per floor

Bathroom(s)

Multi-stall, single gender bathrooms on each floor *Gender-Inclusive bathroom(s) available

Laundry Room(s)

In-hall, available for entire complex

Common Spaces

Lounge on each floor, classroom spaces scattered throughout

Kitchen Access

Kitchen available in Rees Hall, accessible for entire complex
WHAT'S IN A NAME?
Jackson Hall is named for Reverend Abner Jackson, fourth president of Hobart College from 1858 – 1867.
Potter Hall is named for John Milton Potter, president of Hobart and William Smith Colleges from 1942 – 1947.
Rees Hall is named for Major James Rees, an early settler and landowner in Geneva. He was also an acquaintance of George Washington!